Retrenchment Legality, Losing my Job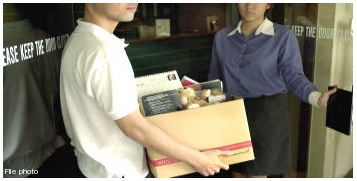 Philippines
June 7, 2009 9:36am CST
I just want to ask you opinion if my retrenchment is legal.. so here's the story.. DAY 1 Monday It was a sad announcement that our company experiencing financial loss and they have no other choice but reduce the number of employees and the persons to retrenched will be announced on Wednesday. DAY 2 Tuesday The admin held an interview anyone, something like a psychological self-questioning if the interviewee is a candidate for retrenchment.. Almost 6 employees volunteered to resign after the interview. I found out that some volunteered because of pride they don't want have feel bad when the management will be the one to terminate due to retrenchment. Others volunteered because of the opportunity having to leave the company with separation pay more likely to be early retirement. DAY 3 Wednesday All persons who volunteered where interviewed again just to finalize their decision, and on my surprise i was again called for interview and was asked why did i not volunteered and they are convincing me to volunteer ( i don't know whats their purpose, it supposed to be voluntary and why are they convincing me).. From this i already know that the company intended me to be retrenched. Not a week past i firmly did not volunteer and they retrenched me (sad) Just want to ask if its legal where about 25 employees and 6 volunteered and 3 of those volunteers are almost three years on the company and have a very good income the other 3 are still on the starting salary level. I was on the starting level too. Is it legal that i was the only one to be retrenched and the others volunteered? The grounds they based my retrenchment was my Evaluation and said i was the lowest and least productive.. I'm asking for proof but they did not show any documents saying its confidential.. All they gave was verbal. Was my decision right not volunteering and standing my ground and pride.
7 responses

• Philippines
8 Jun 09
Hello to you doughlas. Looking at the economic status of our country especially for international companies, most are in dumps. Thus, in order for them to survive, they go for retrenchment, and usually, those who are affected are the newly-in employees. Even without proof, it is the rule of thumb. Nevertheless, If the cause is poor evaluation, the company should provide proof in black and white. With regard to asking employees to have volunteer resignation, that is giving the employee a chance to at least leaving the company voluntarily rather than vice versa. Anyway, retrenchment is I guess not good on the part of the employee, but as they say, "there is light at the end of the darkness." Cheers!


• Philippines
23 Jun 09
hello France7, I believe in the rule of the thumb.. last in first out for employees.. is that what you mean.. well actually i'm definitely not last in.. during my last days at work i was instructed to teach the new ones who will handle some of the jobs i will left behind.. That's why i think my retrenchment was not about business but personal because from my point of view.. i'm am the only employee who is able to freely express my grievance to the company and a lot of employee supported me.. I'm the one brave enough to complain about misguided rules of the company.. thanks for your comment..

• Philippines
23 Jun 09
Hello agv, I hope that your sister will find a new job soon.. There's a saying "once a door closed.. another window opens.." And i know that there are a lot of opportunities there waiting for your sister.. Gudluck.. Happy Job hunting.. Thanks for your comment..

• Philippines
8 Jun 09
I'm sorry that you lose your job.

nowadays,with companies suffering from recession,it is unavoidable that they lay off people.I believe that they only used the "lowest and least productive" reason because they don't want to disclose how much your company suffered financially.they SHOULD give you a seperation pay.

• Philippines
23 Jun 09
Yup they give me a separation pay.. but i think its not enough because I've stayed not that long in the company.. What I received in my separation pay is only equivalent to my one month pay.. Just a to let you how much loss our company have is that this is our second retrenchment.. The other one happened a year ago when there was no recession yet..

• Philippines
9 Jun 09
Hi doughlas_dorsey! This is one of the bad effect of the global crisis, companies are forced to reduce their manpower in order to avoid closure and survive in the economic crisis. Well I respect your decision to stay and fight for your right (and pride), but I do believe that you should just accept their offer and maybe bargain for a good pay out which I believe you have all the right to ask since you do not volunteer at all. I mean it is really hard to just walk away with this without any return from your company. It is very easy to be the next target of expulsion particularly if they will insist that you have a failed evaluation which for me is very easy to do and document. Also, little mistake of you could be grown into bigger issue which they could use as a reason for your termination. Anyway this is just my own opinion. Good luck and hopefully you have made the right decision. Have a nice day!

• Philippines
23 Jun 09
Yes i agree to that, they might accuse me more, but I believe that our company officials are not that bad enough to do that to me.. I believe I made my stand and I believe I made the right choice.. By doing that I think I gained a lot of confidence for myself.. Before I made the decision, I really prayed hard for guidance, to be able to say what I needed to say.. And I believed that this is a blessing to me to be able to move on to new career and a new job.. thanks for your support.. Thanks for your comment..

• Philippines
8 Jun 09
I think the best thing to do here is to consult the Department of Labor and Employment (DOLE). You can search their website first to know which department and who should you be contacting with. What I know is that the company should have submitted the retrenchment plan to DOLE before doing so. Also, as per our existing labor law, a retrenched regular employee is entitled to receive a separation pay. I also believe that resignation will not entitle you to any retrenchment or terminal benefit unless there are prior discussions or deals between the employee and the employer (which your company did). So in a way, your non-resignation (if you are a regular employee) according to our labor law makes you more qualified to receive terminal benefits than those who resigned.

• Philippines
23 Jun 09
I taught about it, but instead i just researched on articles over the internet of the benefits of being being retrenched.. I'm just wondering the documents they give DOLE regarding the grounds of my retrenchment.. I have requested them documents to justify my evaluation on my performances in the company saying that i have the lowest.. but they never give me anything saying to me those documents are confidential.. Thanks for your comment..

• India
8 Jun 09
Your decisions to not volunteer was wrong and I am speaking from my experience of how VRS (Voluntary Retirement Scheme) works in India. Usually a company decides to reduce its staff strength from time to time and announce a VRS for those willing to take it. The company also draws its own list of candidates who it thinks should take VRS. Now there are many like you who feel that they still have something to contribute to the company and don't volunteer…in most cases they fail to convince the management and are summarily removed, with only their final salary and legal dues cleared but no extra monetary benefits. The company usually offers quite a good sum as extra money for those willingly taking VRS….it is calculated keeping in mind the last drawn salary and years on service left. So if your company did offer you any such monetary benefits, you should have accepted it.

• Philippines
23 Jun 09
Just want to thank you for your comment.. Just want to say that i indeed think of the situation whether to volunteer or not.. but my case is different cause in our company (Japanese Company) they did not offer me anything and what the volunteer and the ones who did not volunteer had the same legal dues or separation pay received no other benefits. I'd always argued with our Admin that i'll only volunteer if they can give a black and white proof of my evaluation.. But they never give me that proof.

• Philippines
8 Jun 09
May be the company is at a grave loss to have to cut down man power for that to be covered up. I think that convincing some to voluntary resign might mean we are not doing well in our assigned job as well (just a point of view, it should not meant anything for you). But the way of convincing people to resign may not just what I think, it is may be there are other reasons why they are saying it. We all know that its a world wide crisis and thus having a job might not be a reason to be stable financially but to have a lot of part time jobs that can provide needed allowances.

• Philippines
23 Jun 09
Yes that's my target now to have part time jobs in order to have a financial stability that's not dependent on a particular job.. I believe the reason that they are convincing me to volunteer since because I'm the only one person left and if I agree to what they want.. They will not file the Retrenchment Status of the Company to the department of labor.. Since After volunteering they required the Volunteers to submit a resignation letter NOT stating that they resigned because of voluntary retrenchment but resigned because of other reasons. Thanks for your comment..

•
7 Jun 09
That's unfortunate of you. I'm not a legal expert but I think the management (I assume it is a private company) has the right to retrench if they see that they no longer need the service of a certain individual(s) regardlss of he/she volunteered or not. Of course, there should be a reasonable time frame for this (e.g. there should be an advanced notice) and justifiable reasons from the management for their decision.

• Philippines
23 Jun 09
Yup they give me a notice.. but i really did not like the justifiable reasons is not that well established.. because they did not give me any document regarding my evaluation if i were really the employee who have lowest evaluation. Thanks your comment.