Introducing.....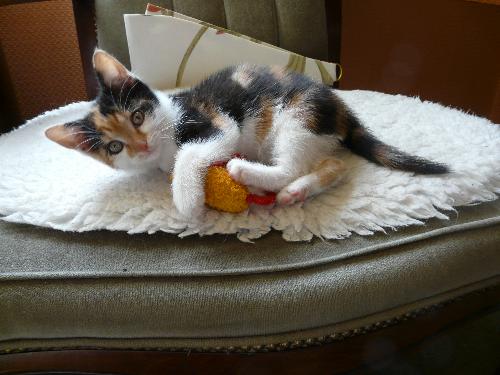 June 9, 2009 2:01pm CST
Daisy, my sister's new cat. Actually she's still a kitten, but they grow up so fast don't they? She's already got a cat, a tabby male called Bruno and apparently the first meeting between Bruno and Daisy went somthing like this...Daisy: "Hissssss!" Bruno: "Grrrrrrr!" (Daisy runs away). Oh well, it it takes time... by this time next year they'll be close buddies I'll bet.
5 responses

• United States
9 Jun 09
I believe they will be the best of pals before too long. In the meantime, I had to put a drop of garlic oil on my cats noses because they seemed to have a little snuffly nose. To my surprise, they started to kind of get along. Could it be that they could not tell the difference in smell.

•
9 Jun 09
Probably , garlic oil would kill even a cat's sense of smell.


• United States
9 Jun 09
Applying scents has always been a good thing to do when introducing animals to each other. We did that when introducing cats and dogs (chihuahuas) from 2 households and surprisingly they all got along pretty quickly. I think we used a drop or two of my husbands aftershave on each. They all smelled good for a couple of days and became 'partners in crime'.

•
9 Jun 09
That's an interesting tip. Something that I'd not thought of before.



•
9 Jun 09
Thanks, I've been lurking around, just not seen much that I felt like responding to.. As for the parents thing, that's unlikely as Bruno has had his "bits" snipped a long time ago


• China
11 Jul 09
Wow, you like cats so much. I found many discussions on cats in your profile. haha Daisy is looks so cute. I can imagine the moment the met. Cats are very shy when they see people...maybe only when they see me, they ran away fast. And I don't know they are so shy when they see each other. haha Wish you and your cat's have a good day.

• United States
10 Jun 09
some of my big cats have been looking in on the feral kittens now that mom is gone a few of the big cats have hissed, at which point I tell them to be nice, but most of them either just look at them, or ignore them I wish these babies would calm down, but I really don't want to get into more than the 3 ferals I already have! Nino and 'Nado (RIP) took on Star; Ronnie attached herself to a very grumpy Taj (he was not impressed); and Gizmo attached himself to Solo's mom until she went to her new home then he got cozy with Henry (RIP) and now he comes to me for pets and lets Timus and Ping or Pong lick him. Mitten (RIP) attached herself to Gnu(RIP) and he was, like Taj, not impressed, it was kind of funny watching Gnu walk across the yard followed by Mitten, who was followed in turn by Freon, the neighbor's cat. Gnu was kind of like "go away, kid, your bothering me" and Mitten was like "who are you looking at?" to their tag alongs.

• Canada
9 Jun 09
Yes they will be very close they just like to make you think they are not that close I wouldn't leave them a lone very long by them selfs.Are they both fix it makes a big difference.They will come around more each time you let them spend time together I got dog and some cat's.The cat's will protect the dog the dog do the same for cat's she as to be careful when she's out the other cat's don't understand she trying to nice to them. cd