On average, how many meals and snacks do you eat per day?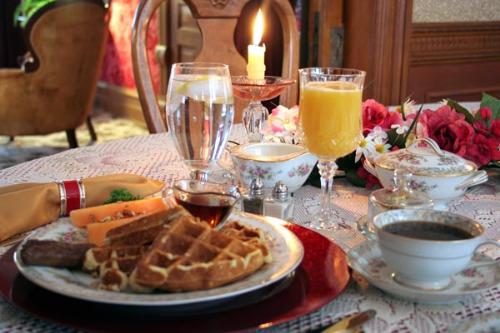 United States
June 10, 2009 10:57am CST
Some people are "grazers" and eat six small meals a day; others stick to the more common three meals per day with a snack or two, and I know several people who only eat one main meal a day and leave it at that. I have two small meals and several snacks a day, as a rule. It seems to keep my weight stable and such. How about you? How many meals and snacks do you generally eat per day? Do you feel you're doing what's best for you system? Or do you eat this way due to a too-busy life, etc.?Karen
8 responses

• India
11 Jun 09
Hellom my friend PeacefulWmn9 Ji,
Well, I follow universal 3 meals a day with 3-4 cups of tea at normal intervals like meals per day without any snacks. This keeps me fresh and fit with required energy. May God bless You and ahve a great time.


• United States
11 Jun 09
It sounds like you have discovered exactly what your body and energy levels need in the way of food to thrive and be healthy...a wonderful thing to know : ) Karen

• India
12 Jun 09
Hellom my friend PeacefulWmn9 Ji,
So nice of you. I think,on eshould know, what one's body needs within limits and try and accomodate. Once you understand, soul lives there, which is another form of God. May god bless You and have a great time.


• United States
12 Jun 09
I agree. Our body is the earthly dwelling for our soul here on earth, so we should take good care of it : ) Karen


• United States
10 Jun 09
Well I have as breakfast orange juice.. then I have lunch.. and try not to eat something heave at dinner... usually have some snacks..so let's say 2 meals.. and several snacks..

• United States
10 Jun 09
Hi Lita...your eating patterns sound similar to my own. I know they say breakfast is the most important meal of the day, but I am just not very hungry at all when I get up, so like you, I have something really light! Thank you for responding. Karen

• United States
11 Jun 09
Yes me too.. I'm not hungry at the morning.. just want something light... or sometimes.. I don't eat until lunch... anyway .. I'm not hungry when I supposed to. ..controlling you hunger it's not easy..

• United States
11 Jun 09
I think if at all possible we're better off listening to our bodies than watching the clock when it comes to eating : )

• India
12 Jun 09
I think, that's a good discussion. I try to eat the breakfast heavy, then I take a short meal during noon time and then another short meal at night. I love snacks but recently have cut down on it.

• United States
12 Jun 09
This way reminds me of a saying: eat breakfast like a king, lunch like a prince, and supper like a pauper. So it seems your way is healthy. I do snack, but I try to pick healthy foods that I love.

• Philippines
12 Jun 09
I do my best to eat 5 to 6 little meals every day so I feel full most of the time. This is recommended by most trainers and doctors. I've also read about it in different health articles. It's best to do this when one is trying to lose weight. So far, it's worked for me.

• United States
12 Jun 09
I have read and heard the same. It is good to maintain a weight loss without feeling hungry or deprived, and it is also much kinder to the digestive system : ) Karen

• United States
11 Jun 09
Hi Karen...and I hate to admit it but I'm a grazer. I very seldom sit down to a full cooked meal although I do one for my husband and grandaughter everyday. I am the person that picks at stuff all day long and of course my weight is proof of it becasue I am overweight. It comes from all the years when i was younger that I spent waitressing and would just grab a bite and run becasue you never knew if you were going to get an actual lunch break or not during your shift. More times than not I did not have time to eat until after my shift was over becasue it always seemed like someone would call off on our busiest day. So that habit has sorta stayed with me and as for my health..being a little overweight and my chlosterol being a little high it has not really affected my health much. flutterby

• United States
11 Jun 09
Food habits, like others, do tend to stick with us, such as the way you ate while waitressing. Actually, depending on what one chooses to eat, I have read that grazing is a healthy choice. Have a happy day... Karen

• United States
11 Jun 09
I could say up to 20! Isn't that insane? Well yes it is! I eat maybe 4 meals in the morning, up to 10 in the afternoon, and 6 late LATE at night. I think this is bad but it is too!

• United States
11 Jun 09
Actually, it would depend on what you eat and how big the helpings are and how active you are. Look at the amounts Mark Philips eat, and yet he burns it all up swimming and with other exercise. As long as you're healthy, go for it :D Karen

• Australia
10 Jun 09
Hi! I eat two meals that's lunch and dinner and 2-3 snacks a day, mostly cookies or chips. I don't eat breakfast because I don't feel hungry in the morning, but I'll something light around 10-11 in the morning. And I think eating this way is best for my system.


• United States
10 Jun 09

I am with you. I do believe our systems are different, and as such, we tend to have different eating habits. I try to "listen" to my body and feed it only when it is hungry, and stop before I am over-full. Karen

• United States
10 Jun 09
I think I eat 3 meals usually and snacks in between, if the small snacks are count, I think I have more than 6 meals :-p chips is one meal, ice cream is another one :-p I drink a lot of water and hot tea in between though because water helps figest the food well.

• United States
10 Jun 09
So you are what they call a "grazer" which is actually quite a healthy way to eat...here a little, there a little. And yes, water and tea are both good for you. Karen