cellphone etiquette: hope it helps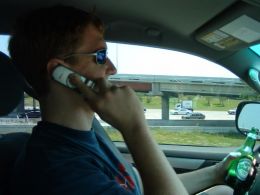 Philippines
June 13, 2009 6:56am CST
i have read this one, on one of the sites i have been browsing on. i hope this could be a lot of help for all of you, my friends. because some people just dont give such importance to what they are doing specially on public places.
read on and hope this could help:
do you hate to see people talking on their cellphones while driving or even worst, texting? how about texting while having a conversation with you? or having thought that someone is talking to you well, in facy he/she is talking on their phones by bluetooth. these are soem of the reasons why it is important to us to be ever cognizant of proper cellphone etiquette.
cellphone etiquetter can be defined as proper cell phone usage in social and business settings.
while driving always put in mind to take calls on basisor just honestly assesswhether or not to pick up the call. and just answer with vital importance. like if its your wife calling, your kids.thats just a rule of the thumb for others. but if its just co-workers, friend and your boss is calling its better not to answer specially if your in the car. we should consider whether or not the call is important enough to pick up based on who is calling on the other line. and driving while texting is the most dangerous. because you wont be able to put your eyes on the road. even if you have already memorized the keypad, its inevitable for our eyes to shift from the road to the screen of our cellphones. so its a no-no for those who are driving. etiquette in our work place, its typically not allowed to take personal calls. specially texting. but work related calls are acceptable. because we might be breaking our office rules and end up be called upon the wrong things done.
and an over all lifes cellphone etiquette:
1. silence cellphones in places you wouldnt want to receive calls 2. always keep others in mind 3. screen you calls 4. strive to not use cell phones while driving[b]thanks friend and i hope i could be of help. jhelai[/b]

5 responses

• India
13 Jun 09
very good information. i dont have this habbit to use cell phone while driving because i dont have car lol.. But whenever


• Philippines
14 Jun 09
that is so good my friend and thank you so much for participating and giving your response here in my post. thanks friend and good day jhelai


• Philippines
14 Jun 09
wow you post a lot now. this post is quite substantial. most people are really unaware of the following circumstances. they may regret it after. being cautious first and foremost really helps.happy mylotting!

• Philippines
14 Jun 09
i post a lot because its my free time. means its weekend and i have more time again for my online earnings and friends. amking discussions is like talking to them in some new neat way. and i like it so much. and i hope i could be more help to others. thanks friend for the response. jhelai


• United States
13 Jun 09
I wish more people would read this cell phone etiquette. So many of my friends talk & text while driving and it's so dangerous. I hate when people are talking to you but are also texting away on their phone, I think it's really rude.

• Philippines
14 Jun 09
its not just being rude its also unrespectful. they must have to give importance to the person they are talking to. and its like you are talking to space by yourself because they are more intent on their texting than rather talk with you. its not a good behavior, really. thanks friend for a nice response jhelai


• India
13 Jun 09
Those are not good etiquette but also strict rules to follow by all cell phone users.Cell phones distracts attention in unwanted places and one should be aware of when to keep it in silence mode and even in switched off condition.That will be a good code of conduct to follow.Cheers!

• Philippines
14 Jun 09
are they NOT good etiquette my friend? i am just confused. when in using our cellphones its still up to us on how we use it, when we have to turn it off or have it in silent mode. yes! a very good of conduct to follow my friend. specially on places like the church or business meeting or all sorts. we must have to know that a loud cellphone tune distracts everybody. thanks friend and good day! jhelai


• India
13 Jun 09
This is really helpful!! I have this habit of using my cellphone while I am driving, even to read new messages. Many a times I have narrowly escaped accidents but my habit doesn't seem to change. We had a traffic rule here in our city, of not using phones while you drive. Nobody follows it though!! These are important etiquettes one needs to know and learn from. Thanks.

• Philippines
14 Jun 09
thanks for the response my friend and i am so glad i could be of help. and this goes for me too, when i read this it hits me hard that then i suddenly realize how nice it would be to share it to others. i am more careful now when i am driving. i never did get calls on my cellphone and most specially i dont text while driving. thanks friend jhelai