If you can be a flower...what flower and what color you will choice to be? why?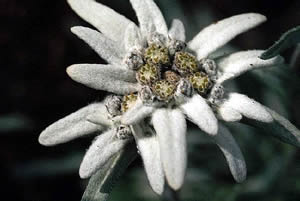 Romania
June 13, 2009 10:04am CST
One of my discussion time ago was..."if you can be an animal what animal you want to be?" Now i come back same idea, and i want make people just use theirs imagination. So, if you can be a flower, what flower you want to be and what color? I will answer first...i want to be one small edelwisse. This is a flower who is very hard to find it..The flower is unequally distributed and prefers rocky limestone places at 2000–2900 m altitude...so is my favorite place too..to mountins.Is white and here we say that bring luck in our home. Is very rare, and have a delicate smell, is like a little star. Now is your turn, what flower you will choice to be, and what colo

r, and why?
4 responses

• United States
14 Jun 09
Interesting, Icesmile! I think I'd like to be an orchid, living high in the trees above everything. I'd watch the world go by beneath me and be comforted in the knowledge that, while a bloom may die off, the plant lives on and there's another bloom on its way.

• Romania
14 Jun 09
I am sorry because i can t post a picture now...but if i can choice to be a flower, for sure that i want to be a yellow rose. I really love this flower, and all time this was my option. I don t know if others like this yellow rose, most of people like red roses, but for me, to be a yellow rose can be the best choice. Is so special for me.

• Philippines
13 Jun 09
always wanted to be a rose... red for love, yellow for hope, and white for purity. i find rose something very delicate yet knows how to take care of itself because of its thorns.

• China
4 Sep 10
if i can be a flower,i want to be orchid with yellow color. orchid often grow in rocky near by canyon with water . orchid are graceful and rarely , some of them are official plant not only to visit . another reason that i choice orchid is that i have study orchid about two years .