Flag ceremony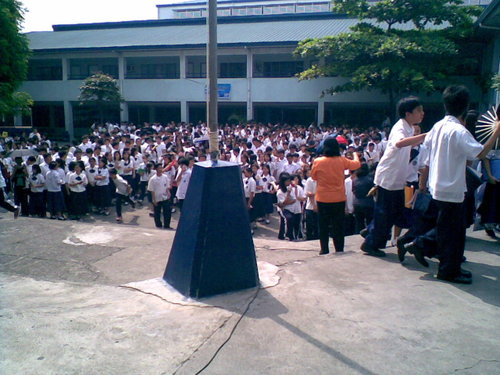 Philippines
June 18, 2009 7:44am CST
Every Monday morning, at 8 am , students in schools and government employees line up in front of their establishments/institutions for the flag raising ceremony.They sing the Lupang Hinirang which is the Philippine national anthem.It is on Friday afternoon that flags were brought down.That is also another session of Flag ceremony.
4 responses

• Indonesia
16 Aug 09
in Indonesia, held every Monday flag ceremony at the school, and some government offices. now I do not have school, I yearn to follow the flag ceremony.

• Philippines
18 Jun 09
Yah I remember those highschool day when i will be caught by COCCs (Cadet Officers of CAT) because i'm late for the flag ceremony.. And after that they will instruct me to do an exercise.. A push-up for boys and pumps( they have to go up and down while their arms are crossed holding their ears, from my experience as i tried this.. it cna really make you dizzy so i prefer push-ups) for girls.. or sometimes instead of making us do exercises they will ask us to pick up trash.. yuck.. Also in the afternoon after class the flags will be brought down by COCCs or if its raining or going to rain the flag is brought down immediately.. As in the ritual for bringing down the flag.. One of the COCC will shout a loud and long "ATTENTION" and as you hear this if your in the vicinity you should stop and wait till the flag is brought down.. of course your excused if your inside the room and having class.. I remember a funny experience when its about to rain and no COCC are to be found we and my classmates did the ritual but it s not me who shout "ATTENTION".


• Philippines
18 Jun 09
Our town flag ceremony is conducted every 8 am in the morning. They are closing the 2 main roads every time till the ceremony is finish and since it is main roads, traffic really build up. I really hate it when I woke up late on Monday, not because I won't be able to attend the ceremony but because I will surely be caught up in traffic and will reach work late!