Which place in the world would you most like to travel to?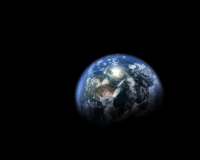 Brazil
June 18, 2009 1:40pm CST
There are fabulous and fascinating place around the world to visit! I'm from Brazil, and I hope one day I can visit the whole Europa. The countries looks so beautiful! I have a friends from London, Romania, Belgium and Portugal, and it makes me have even more desire to visit this continent!And you? Which place(s) in the world would you most like to travel or visit to?
7 responses

• United States
18 Jun 09
Hello leocbrito, the place I want to see the most is to make my own tour of India. I planned through a travel web site to start the tour in Delhi for 3 days. Then Go to Agra to see the Taj Mahal. and finally finish my tour in Mumbai and fly back to Seattle.I also hope to travel to Chile, it looks really nice there.

• Philippines
23 Jun 09
well thats so fascinating hope i could do that too. i love to travel but unfortunately, its not that easy to go out of the country. i live here in the philippines. and i am happy to be here, because of the tropical place, beaches, so many tourist spots which you could really enjoy. i love to visit europe, australia, usa, japan, and many many more. but we need the exact documents so that we could go travel abroad. jhelai


• United Kingdom
22 Jun 09
Most of all I would like to go to South America. There are four places there that I would love to see. I have always dreamed of going to see Machu Picchu in Peru. For years I have wanted to go to Cartagena de Indies in Colombia. I really would love to visit Rio de Janeiro in Brazil. I know it would be really expensive to go to the Galapagos Islands but so see all that wildlife would be incredibly special.

• India
22 Jun 09
I am a Indian and i also like to Visit my India Place that's tajmahal it's the Priceless Place for the Lovers and i hope i will soon visit with my Lover. And i am so Proud it would be a 7wonder list.


• Indonesia
22 Jun 09
hi leocbrito i also want to visit all countries in europe. i want to see stonehedge in UK i'm so curious about that place. who manage those stones so look like that. it's so mysterious to me. I also hope i can go to Mesir to see Pyramids and to Brazil to see Rio big carnival...