Something Magical About Fathers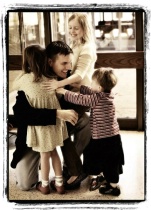 Malaysia
June 20, 2009 4:46am CST
Father's day is here again and it brings me back fond memories of the man I called 'father'. He has now gone to rest and never again will I be able to call him or greet him 'Happy Father's Day'. I am thankful to have a father who has taught me the real meaning of life and his iron fist strict upbringing of his children especially the daughters has embedded a strong and unshaken character in me and all his other daughters. Without his communist style of discipline I think I wouldn't have sustain the hard knocks in life. I used to despise his disciplinarian style of upbringing but now I know why he put extra fencing on the girls. I respected him as a father and a mentor in my life. Despite being a strict father he does have light moments with his children especially the younger boys. I remembered when my father returned from work all my three younger brothers climbed over him, one on each shoulder and another on his head. He threw them high and catch them. Mother observed from a distance thinking "How come, I do so much and yet it's the welcome they give their father that is incredible.' What is the magic? He never get tired spending time with his children even if it was to do the most childlike things. Without a father life will never be the same again. Take care of your father while he is still around. I wish all the fathers out there
'Happy Father's Day'.


10 responses

• Guwahati, India
20 Jun 09
Hi zand, Salud for thine father. and that you were extra fenced by the disciplinarian father came up a boon for you and this happens in our set of social bonding too. Your acknoledgement of the departed soul is the result of parental guidance that he knew better. But my father who is still alive and kicking had a different notion and he let us go our way and we controlled ourselves to be real men and all three brothers and sisters are well settled now. Now I am asking my 7 + son to gift me on this occasion. lol


• United States
20 Jun 09
HI ZANDI, Seems as if u have very fond memories of your dad, that's great, He may have been stern but seems as if he was & that's very important, i think. MY sons had different dad's, my oldest never got a chance to be around his dad because his dad choose to be that way, his loos. my youngest never knew his dad at all. Men cab be mighty sorry when it comes to being a good dad. I'll JOIN YOU IN WISHING ALL THE "GOOD" DADS A HAPPY DAY. TO THE OTHERS SHAME ON U!

• Malaysia
21 Jun 09
Hi Lady, yes, I do have fond memories of my father especially now that I am solely responsible for running his business which he has left behind. He used to get scolding for him when I am not up to the mark in running the business and now am left all alone to run without his supervision. But his mentoring when he was still around taught me to be a shrewd person in business now.

Wishing all the daddies, sugar daddies, grand daddies and every men who has sired children a very Happy Father's Day.


• United States
21 Jun 09
I'm sure running the buisness by yourself can be trying at times but at least u have something from him that makes your living. I had my own buisness for many years & it could be trying at times to but i wouldn't change a thing about having it. Do u mind me asking what kind of buisness u run? if u do mind, that's o.k. i ask too many questions sometimes but it's just because i'm interested in what u are doing. IT'SWONDERFUL THAT U HAVE KEPT HIS BUISNESS GOING. i KNOW IT HAS TAKEN ALOT OF HARD WORK.

• Malaysia
21 Jun 09
To be honest with you my father has built a row of shophouses and he hes earmarked it for all his children to own at least one each of the businesses ie. a hair saloon, a mini market, a pub, a resthouse, a laundry, a car workshop and a couple houses for rent. Since non of his other children is interested as it is located far away from our original home and non of them want to be relocated, I took up the challenge. But now am only running the pub and collecting the rents from tenants. I am quite satisfied with the present business since I relinquish my job to run this business. I have full control of the business and non of my other siblings have any say in the business that I continue doing. My father left with firm assurance that his children would continue his legacy but non of the siblings are interested in running the business except me. I consider it as a gift from God as He sees me in a difficult situation.

• Trinidad And Tobago
20 Jun 09
Its NATURAL,,and maybe as most fathers,spend time ,6 to 15 hours a day working outside,, any time they get to spend with the family is normally QUALITY time,My DAD was the same, as mentioned above,, and its my duty ,, I did the same,I used to Be verry strict,, now they have all the freedom ,, and they are loving it,

• Trinidad And Tobago
21 Jun 09
u are verrrrrrrrrrrrrrrrrrrrrrrrrrrrrrrrrrrrrrrrrrrrry wise,, I am going to/have to wait 3 years,, got a lot of patience u know,Thanks for ur Wishes,,enjoy ur day too



• United States
20 Jun 09
It's wonderful to look back on life with Father and understand how much he contributed to your life. Fathers have special places in all of us who are lucky enough to have them. My Father has been gone almost 20 years and I still miss the wonderful contact I had with him. Love to all you Fathers out there.

• United States
20 Jun 09
What a beautiful memorial to the wonderful man you called "father". It brought tears to my eye because my dad is no longer here either. He too, was strict with us but was also quick to analyze situations and slow to react. Whether an event was a stressful one, or a happy one, he was able to have it become a learning event for some aspect of it. I remember lots of playtimes with him, fewer with my mom. I think that's because when men come home from work, they have time available to them. Mothers never get to leave work, and have less time.

• United States
20 Jun 09
It is good when we become an adult and can actually understand where our parents were coming from when they set boundaries for us. I am glad that you are to that point with your dad.

•
20 Jun 09
There is nothing wrong with discipline if it is well meant and there is reasoning behind it.My Dad is coming to dinner tomorrow with us. He was strict but fair,we knew where we stood and how far we could push things,nothing wrong with that.He spent long hours at work as My Mum did not work outside the home ,she did seasonal work on the farm.She has gone now and I missed her on mothers day second without her,so we should value all our parents a bit more,as you just don't know how long we will have them,Happy Fathers day to every Dad out there.

• India
18 Jul 09
Hello my friend zandi458 Ji,
So nice of you for bringing memories from your father's character, which could be example to anyone here. But are we following foot-prints in bringing up our children, you have already seen good results of your father's style, now my simple question, are you strictly following or adopting still another better ways. let's remember our father and it would be great tribute by adopting someof their ways, if not all. May God bless You and have a great time.