These are Poisonous

United States
June 20, 2009 2:03pm CST
They look so yummy, but these are pods from the Mexican Bird of Paradise shrub that grows along our driveway. When I first saw the leaves they reminded me of my lentil bean experiment. I planted a handful of soup beans just to see if they would grow and what they would look like. They did sprout and made a dainty, feathery leaved plant, but all the while that other beans sprouted and blossomed and bore fruit, the lentils produced nothing but more dainty leaves. The Mexican Bird of Paradise (also known as Yellow Bird of Paradise) has exotic yellow flowers with red tongues, however, and although the flowers do not last long they are magnificent when they first appear and then for a few weeks after. I brought a huge bunch indoors after trimming the bushes back, as it was hard to throw such pretty blossoms away. They looked great initially, but soon made a big mess! The pods appear shortly after the blossoms, and yes, this plant is a legume, but unfortunately not one that is fit to eat. Do you have some plants that are pretty, but poisonous? Have you ever brought in a nice bouquet of something and then had it fall apart all over your furniture and floor? What about insect stowaways? Once a neighbor handed me a huge bunch of daisies to take to work with me, and I didn't have time to inspect them. Yuck, bugs all over the car seat. I didn't take them in!
7 responses

• United States
20 Jun 09
I think we had one of these when I was small. I also think I sometimes shelled them and put the glossy brown beans in my mouth, they felt good. I had a bad habit of doing that. I know I have had flowers fall apart, or also drip. I think Irises drip on the table, and do not last long. That is traditional irises, not Japanese or Dutch irises.Daylilies will fall apart overnight. The worst buggy plant I can think of is peonies, they are always full of ants.

• United States
21 Jun 09
From what I read, the jury is kind of out on that question. They are not mandatory, but they do seem to loosen the buds because they eat the waxy coating on it while eating the nectar on the outside of the bud.

• United States
21 Jun 09
Interesting. We had several bushes down by the creek when I was small, too, but we did not cut the flowers to bring in because of the ants. I remember seeing them in profusion at my grandmother's place. She was quite a flower "nut" and had an abundance of iris, gladiolas, hollyhocks, and peonies, among other beautiful flowering plants. They lived way out in the country on a gravel road but the flowers were up on a hill and could be seen from a ways off.

• Singapore
22 Jun 09
I've never heard of this Mexican Bird of Paradise. Thanks for sharing, drannhh. This is another great thing that I learn. I do know that there are poisonous plants around and I wonder what makes them so poisonous. And why they are like that anyway. Your knowledge on all this is awesome.. Have a nice day..

• Singapore
21 Jun 09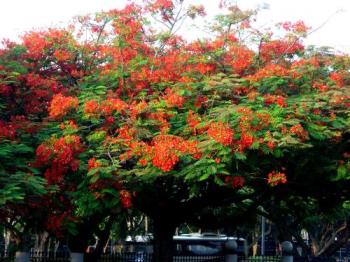 I've seen these kinds of pods on low height trees just outside the boundary walls of my condominium. Their pods are pretty big, and can turn dark brown when it is dried. I've also seen some yellow flowers from the trees and when the flowers drop, they create a mess on the ground, especially after some wet weather. I don't know the name of these trees, but they do seem to sound like the Mexican Bird of Paradise you've described. We have several other low height trees in my condominium that flower beautifully when in season, but when the red flowers fall apart, they leave a carpet of beautiful red all over the floor and grass. The trees happen to be flowering now, and so last week, I took a picture of one of them which I am posting here for you to see. The tree is called the Flame of the Forest. It is beautiful, isn't it? There are not too many such trees grown here in my country. Probably one reason is that when the flowers fall and dirty the place, it becomes a sweeper's nightmare.


• Singapore
25 Jun 09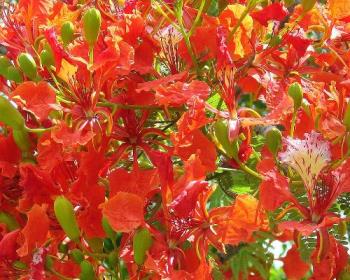 Thanks for the links, drannhh, but I can't see the one in Dave's Garden... it says unauthorized access. I guess the Flame of the Forest may be similar to the BUTEA FRONDOSA shown, although I am not that sure, because I didn't examine the tree (trunk, leaves, etc.) in my estate in detail. But here's a closer view of its flowers from this attached picture.

• Philippines
25 Jun 09
I remember when my former student gave me a bouquet of flowers... it was very beautiful... i took it home and put it in a vase... then after a few days... petals started to shred... i don't really mind the mess... but i was quite sad because i something so beautiful don't last forever or for a long time... The posd really look yummy they look like the small ones here in my country which are very edible... nutritious and delicious as well... i hope no one will make the mistake of adding these pods in their salad...

• Canada
21 Jun 09
But they look really nice :) Except that if they litter that much, I guess they're a no-no to bring home. I"m not much into plants and have only one or two that were able to survive my not too good gardening skills. None of them are poisonous. I am careful about the plants/flowers I bring home because it is true that some come hundreds of tiny insects that really .. well bug me LOL

• United States
22 Jun 09
I cannot dirt-garden, but I do fairly well with plants that grow in water (which is a LOT of them) and the hydroculture really cuts back on the insects, although there are a few "bugs" that will attack them. White flies did finally get my petunias this spring--after they did well from Thanksgiving until the middle of May,. When I moved them near the Yellow Bird of Paradise that is when the white flies got them, because they were there already before I moved in. They got my beautiful hydroponic eggplant, too, but for some reason left the tomatoes alone.

•
21 Jun 09
That's quite worrying as they look like pea's so many people probably would try to eat them if they didn't know what they actually were. I'm growing Marrow fat peas this year for the first time we had some the other day they taste great.

• Philippines
26 Oct 11
They are indeed beautiful, but it is always nice to know what within or what's about plant. This must be done in order to be safe from poisonous plants specially those that are found anywhere.