Yes this is Kurtis my grand son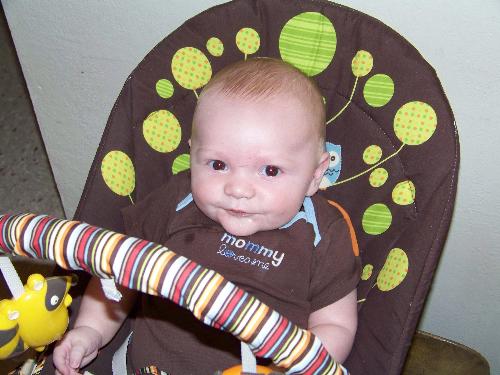 United States
June 21, 2009 2:39am CST
Here is a photo of my grand baby Kurtis he is now four months old and the love of my life. He is the most favorite person in my world. He is not talking and smiling and laughing. We had him over night last Friday night which I totally loved and then daddy came down and picked him up and took him home. I wished he was lived closer so I could see him every week or every day.
10 responses

•
24 Jun 09
Wow... that four months passed quickly. He's a lovely little boy my friend, and so lucky to have such great parents and grandparents. You're proud of him... I can tell. It would be nice to see him every week... they grow up so quickly. Maybe someday you'll find a way. Brightest Blessings.

• United States
25 Jun 09
thanks my friend. He is a doll. In November we are taking a family vacation and going on a cruise for four days. I will get to see him then also. It will be my son, girlfriend, Kurtis, me, hubby, our daughter and her hubby. I think that is great. nice to see you again.

• United States
3 Jul 09
The kids will be coming down the day before and spending the night and then we will go to San Diego the day of the cruise. Then spend an extra night when we get home. yaya we get to spend 6 days together.


• United States
22 Jun 09
He is a cutie!! It is sad that you cannot be around more. I am glad you have gotten some quality time with him though.

• United States
23 Jun 09
thanks for your kind words. I think when my hubby retires he we might move closer to him.

• United States
22 Jun 09
Oh he is such a cute baby!! I know how you feel I hardly get to see my newest grandbaby and they only live 7 minutes away lol.

• United States
21 Jun 09
Hey tea! He is absolutely beautiful! I love his big eyes! What a little doll! He is precious! I can understand how you would hate to let him leave! I can't believe that he is already four months old! How time flies! He really is a beautiful little boy! I hope you will post more pictures of him because he is such a delight to look at! Who does he look like? His mom or his dad? Since I don't know what you look like I have no idea! You really are blessed! I am so glad that he is a happy and healthy little bundle of joy!

• United States
23 Jun 09
He looks like my hubby and his side of the family. He is so cute when he is with grand dad. He just smiles a lot when grand dad is near him.


• United States
23 Jun 09
Thank you. I do love him loads. He send Granddad a father's day card and it is so cute.


• United States
23 Jun 09
Thanks I do love him a lot. He has brought our family closer together.

• India
21 Jun 09
Hey Tea, I have a 3 year old cousin and i know the feeling. I get so depressed when she goes away. Its something which is difficult to describe in words. I know her for only 3 years but she is more importhan to me than anything else. A small smile of hers make my day. Cheers, Tutul

• United States
23 Jun 09
Tutul you take care of your niece and give her all your guidance and teach her about life. I know you are a great cousin and will continue to love her.


• United States
8 Jul 09
Oh, he is so precious! I'm sure you're ready for another visit, eh?