Johnny Depp as Mad Hatter in Alice in Wonderland!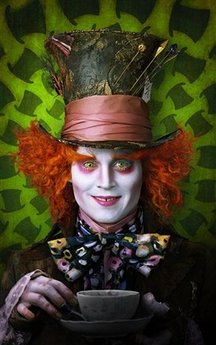 Philippines
June 24, 2009 8:00am CST
I just saw it from ET News, that Tim Burton will have another master piece. A 3-D animation of "Alice in Wonderland", a Lewis Caroll classic tale. What really amazes me is that Johnny Depp will be playing the role of the Mad Hatter.. Yey! I've been his avid fan (since I can't remember) and I'm pretty sure he'll portray the role perfectly... With him also included in the movie are Anne Hathaway as the White Queen, Helena Bonham Carter as the Red Queen, Alan Rickman (I don't know who will he be) and the newcomer Mia Wasikowska as Alice.. No announcement yet about the showing date, probably next year... Oh! here is the public photo of the Mad Hatter...
4 responses

• United States
24 Jun 09
You beat me. I was going to start a discussion on this as well. I loved alice in wonderland and cant wait to see this. Tim burton is producing it so its going to be great. I saw the corse bride and loved it. Also I love Johnny depp. And the new girl they picked for alice. She is beautiful. I just can't wait to see this. I just spent an hour hoping to find a trailer but they haven't released it yet. THis is a movie I will hope to see in theaters because I am not waiting more then I have to. LOL


• Philippines
26 Feb 10
It's finally showing on Thursday next week! I'm so excited to watch it! I'm a big fan of Alice in Wonderland as well, and also Johnny Depp as the Madhatter is awesome! Helena Bonham Carter will be great as usual I'm sure, and so will Anne Hathaway! I'm excited to watch it!

• Malaysia
12 Jul 09
hi sexyposh ya .. cant wait to meet johnny .. he seem to be versatile .. i love his acting skills .. cant wait to catch the movie cheers

•
12 Jul 09
Im really looking forward to this movie! I think Depp will make a fantastic mad hatter, i cant wait to see how the movie turns out! I think all Time Burton's films with Johnny Depp in have been great. Both of them are amazing at what they do, and hopefully they wont dissapoint with this one! I think it will turn out to be a great adaptation of the classic!