What is the last restaurant you ate out at?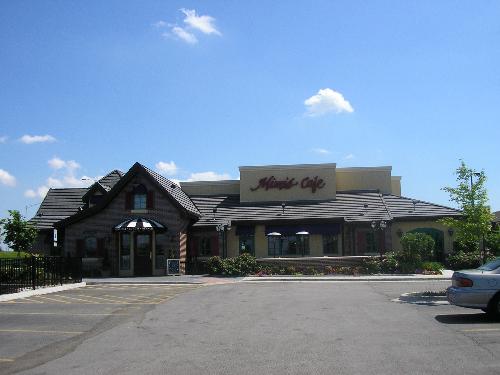 United States
9 responses

• United States
24 Jun 09
The last restaurant that I ate out at was Olive Gaden, it is an Italian restaurant, they have great Italian food... the more I think about it, the more I wnat it now... Their plate portion is pretty big, I couldn't finish it and took away home.

• United States
24 Jun 09
I love Olive Garden, we went there about a month ago, I had accumulated a bunch of gift cards that I got from mypoints.com. We ended up having just the exact amount we needed for the meal, we had to pay like .88. Then the tip of course, which you can't use the gift cards for. We always fill up on the salad and breadsticks and always end up taking our food home. We just love their salad.

• United States
24 Jun 09
I really had to think at this...I'm not counting a quick drive thru either. The last restaurant I actually went in and ate at was a local steak house when Hubby and I got married over 2 years ago. I don't go out to eat very often and in fact rarely go through a drive-thru. I prefer to eat at home where I can make sure no one is spitting in my food, my hands are clean and nothing that lands on the floor gets put on my plate. [b]~~AT PEACE WITHIN~~ **STAND STRONG IN YOUR BELIEFS**[/b]

• Canada
24 Jun 09
We went to a place called Moxies on Father's day. The lady wished us a Happy Father's day and then said she thought it was a bit presumptuous and she was right we have no kids and were just hungry. The service was good and the food was good, couldn't complain on a busy day like Father's day!

• Canada
24 Jun 09
Order Up - Stone Oak I got there, stood in line for 15 minutes.My gf asks me what I am ordering,I tell her nothing. There is really nothing healthy here to eat. We argue back in forth (this always happens as I don't eat junk food)and she orders 3 tacos with chicken and a soda. We sit outside,beautiful day and proceed to wait 25 minutes for 3 tacos with 4 small slices of chicken in each shell. She eats 2 Tacos, I eat the other picking the chicken out of it..lol The place seems to be run by High School kids, very slow service. I think this place would be better suited if we called it "Order Slow."

• United States
2 Jul 09
My fiance and I went to subway today. We try to go to subway to eat as often as we can as it's a very healthy place to eat. We even got noticed today. Someone who is always there taking our orders noticed that we were in the paper in the engagement section. We were wowed, lol, and thought it was pretty cool. We live in a small town, it was either that or a little diner that is a few minutes away from us.


• United States
25 Jun 09
I went to Tokyo's Restaurant in Lufkin Texas. Oh, that is some delicious food. They are very professional, and very nice. I highly recommend this place, any time, that you happen to be in that area.

• United States
25 Jun 09
It was Chili's, it was an impromptu thing so I printed off a coupon for free chips and queso and the I had more Dr. Pepper than I'm supposed to. Then I ordered Chicken Nachos and ate till I was triangular. I asked for a complimentary wheelchair to take me to my car but they don't have them for people who just want to pig out.

• United States
25 Jun 09
On Sunday my husband and I ate at Hunan's Chinese restaurant. It is served buffet style and I like that flexibility. I did enjoy the food. I eat logs of shrimp, lots of different ways. I like to eat a dish of ice cream or sherbet with fruit on it.