Happiness

United States
June 25, 2009 12:01am CST

Most of the people want to be happy, it is quite normal for you wanting to feel happy every month , week , day or even hour. If you consider yourself one of these people, what the word 'happiness' really mean to you, how do you keep yourself happy and what is that you usually do to remain happy? On the other hand, if you are not one of them, what keep you from seeking happiness or it is just your choice of not wanting to be a happy person?

Please share with us your personal experience on this...Thank!

11 responses

•
26 Jun 09
Hello Lampar =) I guess i can't truly define happiness but i know what happy means in the sense of the happiness that ive experience and to some other people that might not truly be called happiness ...hihi.I guess iam cheerful most of the time that i make the people around me happy even for just a moment.Keep sharing the best discussion my friend.cheers!

• United States
26 Jun 09
Hello, my friend! Thank for dropping by to share with us your two cents, it is always nice to see you around.

I understand different people had different definition of 'happiness' to them, that is why i ask for their views in my discussion before they explain where or how they can achieve that...lol!!

Happy mylotting to you!



• Philippines
27 Jun 09
if you are a person who is easy to please then happiness is just within reach. just like the song that happiness is eating an ice cream har har har. one point of happiness for me is taking a bath under the rain with my son. that is happiness, than money can not buy. happiness also to see that he learns something everyday. happiness is getting a thousand kiss and warm hugs


• India
25 Jun 09
i too like to stay as happy as i can at all the times, having fun with friends, living with my family, doing things that interest you, watching your favourite shows, listening to your music, there are many things that can make you happy! have a nice day! :D

• Philippines
25 Jun 09
Although, I considered this incorrect and to most of you I think, but you can't blame me actually if I said that money at this point of time can make me happy. I think that it is my only solution nowadays in order to fixed things right. I think, I can already solve whatever problems that I am currently facing and that my life will be much happier and colorful if I don't have financial problems in my mind. With it, I would like to say again, that money can make me happy nowadays....

• United States
25 Jun 09
I will not say you are incorrect, friend. I am sure many people will agree money can bring happiness, you are not the only one think so. Yes, having financial problem is going to have a big impact in everyone state of happiness including you, i have no doubt about it ,

Thank for your response, cheer!


• Philippines
25 Jun 09
hello lampar... i can say that i am a happy person with a happy life...although there are times that i get sad...its just for a while and i think its just normal because we are still in this world and we are humans... what makes my life happy is my satisfaction with what i have...i count my blessings more and appreciates things around me... i am happy when i see my family in good health and happy living together... i am happy with my husband...with my married life although we don't have kids yet... i am happy that i have a strong connection to God and i am serving Him...and thus i am convinced that i am continually serving my purpose in this world...a daughter, a sister, a wife, a friend...a good servant of God! that makes me happy, satisfied and complete! have a nice day & happy posting!


• India
25 Jun 09
i among those who seek happiness in eey little thing and try to be happy all th while. i am happy when i help others, i ma happy when i am able to make some one smile or happy. i am happy when i think that i am fortunate enough of being what i am.

• United States
25 Jun 09
It is a great thought on your part. Yes! helping others can bring you happiness and inner satisfaction beyond explanation. Unfortunately, we do have small group of people in this world today who got their happiness by inflicting pain and suffering on others, instead of learning from you.

Thank for your response. Happy mylotting to you!


• United States
25 Jun 09
hi lamp . . I am one of the happy ones . .though at times it can be tough to always see the silver linnings in things . I choose to be so therfore I am

I once read something that pretty much says it all
"Happiness lies for those who cry, for those who hurt, those who have searched and those who have tried, for only those can appreciate the importance of people who have touched their lives."
Happiness is there for all of us . .we just have to choose to be


Loting my friend

• United States
25 Jun 09
I can see that , my dear friend, especially when the time you got the first star and also when you have a 10 next to it. That is part of 'happiness' for you.

Those who are hurt, cry or suffer need happiness in their life more than us , so they can find comfort in their life. It is a blessing for a person able to find happiness which is so lack of in certain part of the world we live in today.

Thank for sharing with us .


• India
25 Jun 09
Happiness is a state of mind.A person always seeks hapiness but someho thinks that he is not happy now but at some point of time will become happy.So he continues to go for it & in the search of that happiness.Happiness lies is the current state of mind & one has o realise it.

• United States
25 Jun 09

That is correct, rb200406, it is a state of mind, individual has own set of definition of what happiness is, and that is no definite answer to it. I will say so long as you feel good and joy inside , then it is what happiness mean to me. Thank for sharing , n happy mylotting to you!


• China
25 Jun 09
Well, it is always happiness. At least in my eyes happiness is at everywhere. Happiness is doing whatever you want of course except the crime, talking with a old friend, enjoying the sunshine, having a trip, even watching the movies. I can sense happiness everywhere if I really enjoy life.

• Philippines
25 Jun 09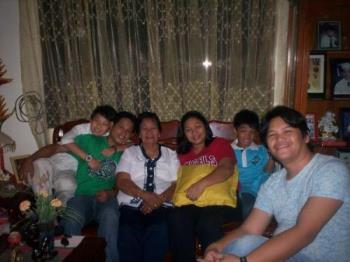 Hi there Lampar!Luckily, I am one of those people who are generally happy just because I choose not to feel down about things that I don't have the ability to change and I don't dwell on the past. There are times when I also feel down though, especially when I am missing my loved ones who lives far away from where I do or the ones that already passed away.