Samurai Jack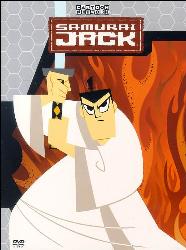 Romania
4 responses


• Romania
7 Oct 09
I know of two seasons, but the series doesn't have a clear conclusion. I've heard Genndy Tartakovski has some scripts for more episodes, but these episodes are not yet planned to be produced.

• Romania
14 Nov 06
da stiu e super tare. Nu prea m-am uitat la el dar inca mai imi plac desenele.

• Ipswich, England
18 Nov 09
Hi there Vasile. Well this is a really old post of yours i know, but i just found it now. I do liked this cartoon, and didn't know there are only 52 episodes. I understand that you watched them all so let me ask you: does Jack manage to win in the end ?

• Romania
19 Nov 09
There is no clear conclusion to the story. From what I hear, the series was supposed to continue. I hear Genndy Tartakovsky already had the main ideas for another season, but they never made it... So I can't give you an answer - there is no end, so nobody knows if Jack wins... I think if the series will ever be finished Jack will win. Jack must win!

• Philippines
9 May 10
yeah i watch samurai jack in cartoon network. it is a good anime and has a good story. too bad we dont have cable right now. so i wasnt able to watch black jack anymore.