So far, good looking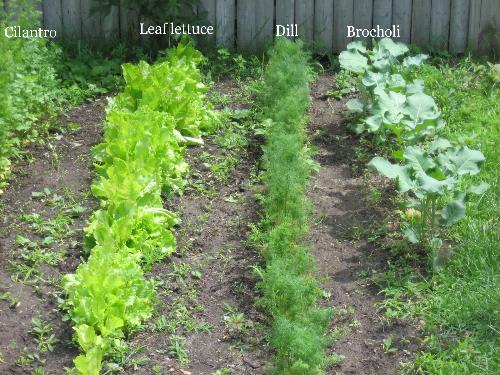 United States
July 2, 2009 1:22pm CST
Here's a shot of some of my garden I have this year. It is labeled for ease of knowing the pl;ants. I have a lot more planted as well. Is your garden the same size this year or what? Mine tripled ion size this year as we love the fresh picked, homegrown taste of everything. HAPPY POSTINGS FROM GRANDPA BOB!!~
8 responses

• United States
2 Jul 09
I also love the taste of homegrown veggies and fruit but sorry to say we have neither growning. I need to see if any farmer's are selling around here, that is if they are even growing enough to have for their own and have some to sell. Weather is not being too kind to us for growing anything down here.

• United States
2 Jul 09
Been decent weather wise here in Minnesopta except for lack of rasin so my water bill will be a lot higher this month. HAPPY POSTINGS FROM GRANDPA BOB!!~

• United States
2 Jul 09
Since the first of January we have only gotten just over 3 inches of rain. The past three years July has been our wettest month so we will see but so far no rain in sight. I think it will take a tropical disturbance in the gulf to bring us rain.

• United States
2 Jul 09
Wow, nice looking garden!! Mine's a hodgepodge, I started diagramming as I planted but lost the paper and it just deteriorated from there! I have green beans and peas that are growing well--cooked my first green beans last night, yummy! I'm at a loss when to pick my romaine, I think you told me once but I forget.

I planted pumpkins accidentally and only 2 plants are monopolizing the garden.


• United States
2 Jul 09
Beautiful! I planted carrots, too, but I don't think they'll come up, the pumpkins are hanging over them and the leaves are huge, no sunshine. Obviously, this year has turned into a learning process instead of a real garden. I need about 3 times the area and much more organization!


• United States
2 Jul 09
3 of my 6 cabbage are just about ready. Maybe 2 to 4 weeks till they are. HAPPY POSTINGS FROM GRANDPA BOB!!~

•
2 Jul 09
Hi, you garden looks really well organized:) I don't have much room but have pots and planters everywhere, and like to grow my own fruit. Home-grown fruit and vegetables seem to taste a lot better than shop bought. I've already had a good crop of gooseberries and strawberries.

• United States
2 Jul 09
Thank you very much. Usually my garden is a mess but I did some weeding this week finally. HAHAHA! HAPPY POSTINGS FROM GRANDPA BOB!!~

• United States
3 Jul 09
Our garden has grown a little bit this year but not a whole lot. We planted a few extra things but not very many as we just do not have the room for a bigger sized garden. I would love to have more fresh fruits and veggies also.

• Canada
3 Jul 09
I don't know how you find time to do anything else but gardening but good to see you here and good job of your flowers and gardening!!!

•
3 Jul 09
Hi GRANDPA BOB, Your garden so so lovely and its hard to think that it was coverd in snow just a few months ago, how time flies, you are doing a good job of them. Tamara

• United States
2 Jul 09
My garden is different each year, and I have finally found a way to make it easier to tend. I will double it next year, I am sure. I have had larger ones, but not successfully at this house.