Asiatic Beauty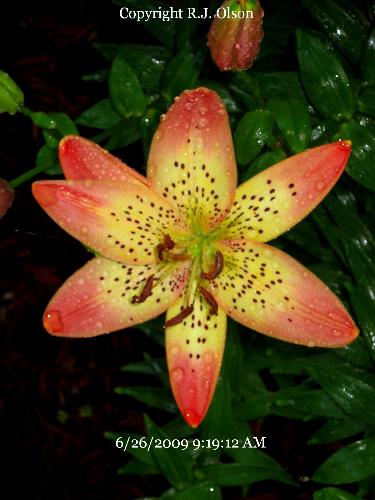 United States
July 2, 2009 1:33pm CST
Here's a shot of one of the many Asiatic Lilies I have in my front yard. I transplanted a lot of them early spring and was surprised they bloomed actually. Not all that were have bloomed as expected. Were you surprised by any transplants blooming when they shouldn't have? HAPPY POSTINGS FROM GRANDPA BOB!!~
9 responses


• United States
2 Jul 09
Lilies send of shoots from the bulbs. If these bulbs are left they form yet another lily. Thery bury themselves deep so hard to rid a yard of them actually. HAPPY POSTINGS FROM GRANDPA BOB!!~

• Shingle Springs, California
2 Jul 09
No but I do have a blackberry bush that's popping up from somewhere. I suppose a bird dropped a seed or something...

• United States
3 Jul 09
My red rasberry bushes have tripled in amount this year with many beries formed and just starting to turn red. I and the neighbors will be having fresh red rasberries soon as well. HAPPY POSTINGS FROM GRANDPA BOB!!~

• Canada
3 Jul 09
You can be very proud of your gardening skills. Even though you're most generous with your photo shots I can only imagine it would be a wonderful opportunity to see your whole yard in person. I was wondering where you were and what happened to you so I'm glad to see you're still a myLotter.

• United States
3 Jul 09
So many people; including strangers; comment often on the beauty of the flowers and my landscaping. I truely appreciate the comments as well. Thasnks. I am back for a bit I feel anyhow. HAPPY POSTINGS FROM GRANDPA BOB!!~


•
3 Jul 09
Hi GRANDPA BOB, That is yet another beauty, have you ver thought of making a montage of your photos and frame it up, it would look really lovely. Tamara

• United States
2 Jul 09
I had some old lily bulbs that I had purchased, but did not really have a bed for. Late last fall I just put them in the tops of some barrel planters. I have had two shades of very deep orange and then some white ones. I was surprised. They are also Asiatics. When I bought this house over twenty years ago there was a clump of Easter lilies. Left to their own, they bloom in May not at Easter. Their flowers are more trumpet shaped.



• United States
3 Jul 09
Oh this is a beautiful lily I've never seen this variety. I've transplanted a bunch of things over the years and been surprised many many times. One time years back we always picked black rasberries in the woods behind our subdivision. Well, someone took an axe to the bushes and I was really upset about it. My two oldest sons, sweethearts, went out and dug up some of the plants and brought them home for me - figured they would cheer me up and be safer (think they were worried about no more fresh jelly) Well, to my surprise among the berry plants there was a wild rose also - it went crazy.