Wha'ts New At Wendys?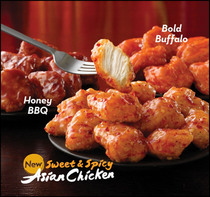 United States
July 3, 2009 3:15pm CST
I love Wendy's chicken nuggets! I was so excited when they finally added them to the menu as a value meal! Have you tried their new Asian Sweet/Spicy nuggets? I had thought that they looked super yummy in the pictures, but I was scared that if I didn't like them, I would be stuck and still hungry!:) I got brave the other day and I ordered them...THEY ARE AMAZING! They are regular chicken nuggets but in a sweet spicy sauce...I was glad I had ordered a large coke because I needed it! I would recommend anyone to get them - you have to like spicy though. Let me know what you think...did you like them as much as I do?
2 responses

• United States
3 Jul 09
THanks for sharing......I haven't had the opportunity to go to Wendy's since it moved out to the edge of town....I have always loved their chili....but those nuggest sound good enough to make a special effort to drive out and get some....I like the idea too of putting them on a salad.

• United States
3 Jul 09
I ordered the asian chicken from Wendys yestertday and it was relly good . I usally order a salad in stead of fries , which I did yesterday . I had a ceaser salad - I didn't put the ceaser dresing on it instead i put the asian chicken on it and it was awesome - they were a little to spicy by them selves but great with the lettuce