How far is it true?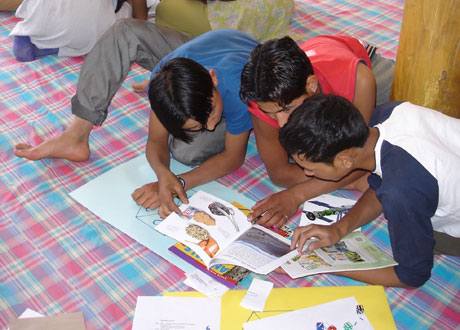 India
July 3, 2009 6:56pm CST
Aoccdrnig to rscheearch at Cmabrigde Uinervtisy, it deosn't mttaer in waht oredr the ltteers in a wrod are, the olny iprmoatnt tihng is taht the frist and lsat ltteer be at the rghit pclae. The rset can be a toatl mses and you can sitll raed it wouthit a porbelm. Tihs is bcuseae the huamn mnid deos not raed ervey lteter by istlef, but the wrod as a wlohe. I received this to my email. I feel this is exactly applicable to me as I will not read anything entirely and deeply, but I will understand what it means. If you ask me to repeat all the words exactly, I can not do. What is your case?
6 responses

• Indonesia
8 Jul 09
I was a little bit feel weird to read those words you types in the first place but somehow i do understand and be able to read that with no problem at all... Very interactive with my mind i fell... Great unique discussions.

• India
8 Jul 09
Understanding our mind is always not possible,it seems. How it recognize though the words are not spelled correctly?Are we able to read a new word, when we read them at very first time, if they are spelled like the above. How many words that our mind can recall like this? Really our brain is wonderful. It has been proved that we are using the small portion of the brain only.If we are able to use it entirely, them imagine the happenings..Thanks for your response to the discussion.


• India
6 Jul 09
For me also English is not origin and I am not able to check with the people who are having English as their origin. They may find the faults at once they start reading.Thanks for your response.

• United States
6 Jul 09
That's really interesting. At first, when I started reading this discussion, I just thought you were really bad at typing and were making a bunch of typos! LOL. But I at least need to have the first letter of the word to be the real letter to be able to figure out what it says. I'm not sure about that last letter, though. I can't decide if it's necessary or not. Hmm! Interesting.

• India
6 Jul 09
I also thought as like you when I found that mail and I wondered how such people are familiar with on line activities. But I was able to know the meaning of that and started thinking about that found that it is true in most of our lives. Still I am showing that to my friends and most of them used to read as like it is correct. It is really hard to understand our brain.Thanks for your response.

• India
4 Jul 09
Yes that is true. This is a reasearch that was conducted in the year 1998 I suppose. Irrespective of the word order, we can read it perfectly if the first and last word are of the same order and even in many interviews we will be made to read the sentences which consists of jumbled alphabets. That is to check our aptitude and ability of adaptation. I appreciate you for posting such an interesting topic here. Have a great weekend. Happy Mylotting-:)

• India
4 Jul 09
I am really wondering about our mentality.This is the usual happening of the familiar words only. But we used to read the new words carefully and correctly. Then how our brain distinguish them as new or familiar word, without reading them exactly? It is highly confusing to me.Thanks for your response and the information you gave about the research. I did not know about this research much ,except this para.And that too, I received it from my friend.Thanks again.

• Canada
4 Jul 09
I am an avid reader, I read a lot of books at a fast pace. I tend to skim over the words fast which relies on recognizing the word as a whole i think. This really applies to me. I find sometimes when reading I'll read the word wrong because it is similar to another word.

• India
4 Jul 09
I am also like that. with the initial letter, I used to assume some other word related to that. When considering the meaning of the whole sentence,I will found something odd and I will come back to the word and will realize the real one.Because of this habit, I have felt a lot as that why we are incomplete in everything. But after seeing this, I asked my friends to read. Most of them were did exactly as like me except few. Now I am convinced little bit.Thanks for your opinion.

• United States
4 Jul 09
When i was growing up, i was always bad at spelling, everyone always told me to read more because when you read you automatically remember the way words are spelled. the problem is i always read a lot, to this day i read at least a few books per year even with next to no free time, but i don't remember how words are spelled. i simply don't pay attention to spelling, i care about the meaning of the book, but not the letters. so yes, i'd say it is about me. though i do pay attentions to letters in between too and it's harder to read when all the letters in between are a mess. as long as the letters are more or less in the right place, maybe couple of letters switched around i can read it and not even see that there is a mistake. but when it's as much of a rumble as the little message you hae here, it's much harder.

• India
4 Jul 09
I asked some of my friends personally to read this. One few of them find the mistakes at the very beginning and most of them at the middle, one two did not find any thing fault with that at all even after reading the entire paragraph. Now I am satisfied to some level.So far I used to thought that we are not taking are at anything and felt for that many times. But I did not even try to rectify that. Now I am able to see most of us are like that only.So no need of worrying about that.Thanks for your response.