Sarah Palin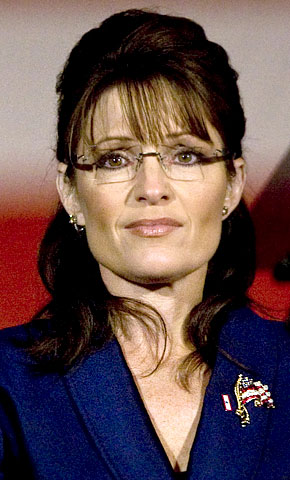 United States
July 3, 2009 9:28pm CST
Ha! That stupid right-wing dunce finally did something that we can all appreciate....she resigned her governorship of the state of Alaska. I hate Republicans.
2 responses

• United States
4 Jul 09
I think she might just make a run for the Senate, and come back stronger than ever. She's taking a little hiatus, and then in due time, we Conservatives can all dance the happy dance when she's ready to kick out "the good ole boys", lol. No offense.

• United States
4 Jul 09
All joke aside, I don't think that she has enough pep to deal with the political and mass media scrutiny that would be associated with her running for another major political office any time in the near future, i.e. (Say like, the next 8-10 years).

• United States
4 Jul 09
With out any name calling or bad words...can you tell me in an intelligent manner why you 'hate' Republicans? Kinda harsh aren't you?

• United States
4 Jul 09
Give me one good reason why I should, all Christian morale aside. I'll give you a reason. The political policies of the republican party are keeping this county's political policies in the dark ages. Their policies are only beneficial to god fearing Christians that are one or all of the next three things, old money, those with six or more figure incomes, and assbackward bigots.

• United States
5 Jul 09
I am a God fearing Christian. I make $10.50 an hour. I am not a bigot, I do my best to treat my neighbor as I want to be treated and a definately am not old money. My grandparents except one were immigrants to this country...the fourth was a Native American. I love this country for what it's potential is...was. I am conservative in that I believe that everyone should work for their daily bread...and take care of those who truly CAN'T take care of themselves. I believe we should be governed by the precepts of the Constitution and Bill of Rights. I believe that we should live by the morality of the ten commandments. You know...don't lie, steal or murder. Honor parents...and our elders and if they are dishonorable and you disagree do so without slander and libel. I think and decide for myself and don't operate on blind faith. Why do you stereotype people? I thought liberals were suppose to be tolerant and accepting of differences.

• United States
5 Jul 09
In that case most of your beliefs and causes are not the prerogative agenda of the political party that you claim to be part of and are so profusely and quite humorously defending.