what is chicharon?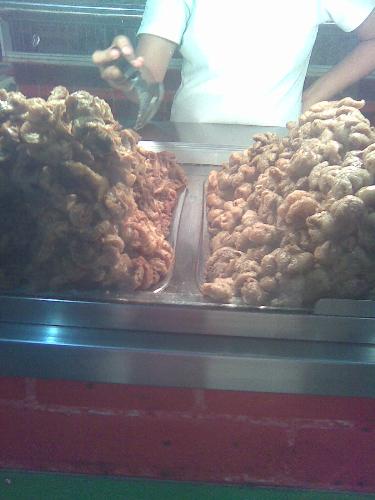 Philippines
July 5, 2009 5:46am CST
Chicharon is pork crackling.It is crunchy and derived usually from pork skin.It is also taken from the innards of pork thus chicharon bulaklak .I usually purchase some of this from Lapid's.
2 responses

• Philippines
8 Jul 09
I eat chicharon and i use to sell it from the vendor of eggs and from the store, i love it because it so yummy and crunchy, i got sometimes in lapids, i love to dip in vinegar with some bell pepper.

• United States
9 Jul 09
My dad always says "pang-pa-bata" or something like that everytime we buy chicharon bulaklak from the filipino market. It means youthful or something like that right? Anyways, it's yummy. But I do feel my arteries clogging from all that grease. Hahahahahaha. I wouldn't turn it down though. I'll just make sure to run and do some HUGE miles after (or even before). Don't want any of that grease getting stuck in any of my arteries. I'm too young for heart attacks. =)