Do you take painkillers very often?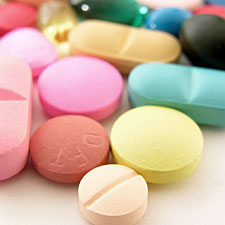 India
July 5, 2009 11:32pm CST
Every one might be knowing that painkillers can give you temporary relief but dependency on drugs can have a harmful effects on you but still majority of them take it. Well my mom is one of them who is really dependent on them, even when she gets a little headache she takes painkillers. I have told her hundred times but who listen. But i am trying to get rid of that habit of my mom. So are you the one who take painkillers often?
10 responses

• United States
6 Jul 09
Unfortunately I recently found out that I have two very good reasons why I am taking what I do. I was taking darvocet 100 since 2001 because I have a total leg fusion. That means I can no longer bend my right leg. Along with that I have no knee, the pushed the bones together. Then shoved a rod down the middle of the bone from my hip to my ankel. They cut a huge slice from my waist to around the entire buttock area to where it meets the top of the leg and then drilled a hole in my hip bone and they hammered for a few hours this rod until it was down to my ankel. Then they screwed it in at both ends. I was on morphine for a month in the hospital. They had me on very strong pain killers and and a pain pump at home. For about a week more. I have been doing fine until I took a fall back in October. I went and took a MRI 3 weeks ago and went to the back doctor. He said I have 8 disks in my back that are almost history and was suprised I was able to sit up in the wheelchair. He took me off the darvocet and gave me percocet. I went to a doctor two weeks ago because my left side hurt. They did a cat scan. My left kidney is not working at all an needs to come out. They increased the stregenth of the percocet. I am in an insane amount of pain and just want my life back and want to live pain free. What I would give to have one entire day with no pain and to be able to bend my leg again. What a great day that would be! Praise God that would be great. I could die the second that ended a happy woman.:)


• Puerto Rico
6 Jul 09
Not at all. I hardly ever get a headache thank god but if I do I try to fight it before I take anything. Its got to be so bad and then I would only take 1 pill at that. I don't like taking medication of any kind.

• United States
7 Jul 09
I rarely take any type of painkiller. I do not like the thought of my pain being masked, especially when I know that it is something that is beyond a headache or cramps. Even when I had back surgery, I would only take a half of a dose of pain medicine and after the second day, I wouldn't take anything unless I just couldn't deal with the pain at all. I actually got angry when the nurse gave me a Lortab rather than a regular Tylenol in the hospital. I have seen someone who was close to be get herself into a lot of trouble with painkillers and lose a lot more than she ever thought she would. Prescription painkillers were almost all she cared about, when she didn't have them, she would do whatever she could to get them. They ruined many things that she had going for hewr in her life, including her marriage. Granted, not all people are like she is with them, but when they are abused, no good can possibly come out of it. I would rather continue to go to the doctor and insist that he figure out what is causing the pain than to take pills to mask the pain!

• India
6 Jul 09
its true that painkillers do have painful aftermath. I never take painkillers as i tolerate the pain which is better than the side effects. one who can take the pain of the PAIN does not have to kill them with PAINKILLERS... Ask your mom to tolerate.

• Anantapur, India
6 Jul 09
hi suj123, my mother also using painkillers regularly,but i have not shouted her, there is no use so she is still using pain killers to get rid of pain


• Philippines
7 Jul 09
Only if my migraine hit me and before I feel it strong I do take my migraine pill. Sometimes I never mind the symptoms but when it triggers I suffered from to much pain and not only one pill I will take, so the next time I feel the symptom I rather prevent it rather cure it.

• India
7 Jul 09
i am a healty guy with regular work out and exercse. I have healthy musceles. But i never take any painkillers or any other medicine.

• China
7 Jul 09
no, seldom. specifically, just once until now. that was back to my university,one day, i had dysmenorrhea, and my roommate couldnt see my heavy pain,and took some pain killers for me. but in fact, i felt it was beyond the expection. maybe taking before the pain,would be better. but i think the best way to avoid the pain killers is precaution. to exercise every day, take care of urself esp during some special period,etc