Do you have any embarrassing experiences that makes you laugh or cry?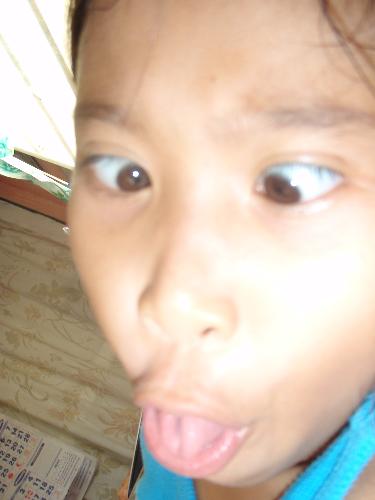 Philippines
July 7, 2009 6:38am CST
I cannot help myself but laugh terribly every time I recall this funny situation were I am involve. I am traveling with my sister and ride a six hours by bus. My sister put our bags in front of the available spaces near our feet. Then, I felt dizzy, something unnatural is happening in my body. I feel cold sensations, got goosebumps, and feel like to vomit. I tried to control myself and eat a candy. Then, out of a sudden I vomit and it's good I have extra plastic bag. My sister smell my vomit and vomit too. My sister laugh a me and tell me how embarrassing I am. All the passenger heard us and others laugh. Then, my sister becomes silent. Then, out of a sudden she vomit loudly. She smell my vomit and she got no plastic bag and she spit in our luggage bags. The two of us vomit. I cannot really explain the look in our faces. We like to hide and cover, but cannot do more but pretend were okay. We left the bus with nasty bags and smelly shirt. Were look disgusting and laugh terribly every time we recall it. It taught me a lesson and from now on I drink anti-vertigo or dizziness medicines to avoid encountering the same situation again. How about you? Do you remember involving yourself in an embarrassing situation? How do you cope with it?
5 responses

• Australia
28 Sep 09
Hey, Well I don't really have any embarrassing experiences that have made me laugh or cry. And if I do, I just can't remember them mainly because my life has been really boring, I haven't really had much fun in my life. Make sure you have a good day, God bless and Happy Lotting!!


• Philippines
28 Sep 09
hi elite user,

well, if you do not have that kind of experience you could still have fun by just reading the other comments or from your friends funny stories it would surely makes you laugh and make your smiles making your day beautiful..Have a nice day too!


• United States
8 Jul 09
Yes I do, everytime when I recall it in my mind, it makes me laugh! There was one time, I went to the library van with my little sister, she told me a hilarious joke, we kept squeaky and wanted to laugh so so so badly... then finally the librarian came to us and said please be quiet! Whatwas funny was we cannot laugh but we wanted to so bad! :-p

• Philippines
9 Jul 09
Lol, that is a really a forbidden place to laugh loud. I too have been warn by a librarian in my school. I have a friend who is using a hearing aid in her other ears. She could hear only when you talk to her near with a loud voice. She talk to me about a book when we are about to lend. Then, the librarian ask us to keep quiet. She could not hear it and keep on talking. The librarian is so mad that she come close to her. I told her to stop talking because the librarian is already angry but my friend continue talking. I talk her in a low voice to stop talking and as the librarian is coming. I talk to the librarian that my friend is slightly deaf and apologize.

• Philippines
8 Jul 09
my kids and i were travelling on a bus for a hometown visit,my youngest is about 4 years old and was so talkative.he share seats with his brother and sister infront of my seat he seats with me.they we're talking in low voices not to disturb the other passengers,when suddenly my youngest son bursted out with full innocence"a devil, a devil "to my surprised i covered his mouth and asked what he is saying.then his brother say's...he seen a carabao and taught it's a devil,i asked why?????..then my youngest son replied " mom,isn't it a devil had horns?...so i seen a devil " (lolzzz) nearby passengers laughs with us...=))

• Philippines
9 Jul 09
Wow, that is a things which is created by an innocent child young child. We could not really control their wonder and curiosity. Especially the way children think and acts. Their are things which an adult tell which they can interpret in their own way. In your child their is really truth about that, every things he see with a horn somehow similar to a devil. He could understand the difference between a devil and a carabao when he grow up. But, now that they are still children let us enjoy their curiosity. In that way they can compare reality from the imaginary things.

• India
7 Jul 09
Hello, a good topic. I think everyone somehow has experiences, which are embarrassing. If you are too sensitive, you will cry, but if you are humorous and cool, you will laugh. I remember myself in a very embarrassing situation on the day when I talked about people being late and being an anchor of the show, I was late...and that was the only time in my life when I was late. Whenever I remember this scene, I feel embarrassed and do not really know how to control myself feeling the shame...:-)

• Philippines
8 Jul 09
I really have a lot of funny experiences and I would admit I done it many times. I am a kind of a person whose action is really noticeable. I do not do it with a plan but it's just a natural things and the people around me interpret it as a funny. I laugh at myself when I think of something funny and cannot control myself to burst in giggles. I avoid the the urge to laugh at a scene I just seen in a movie, to avoid distracting my fellow movie goers. They may think that i may be I am acting weird.

• China
7 Jul 09
i think i have ,sevral days ago ,ihave dressed a skirt,and i am buy something at that moment,suddly a stroger wind come up.my skirt wat blow up.What a shame at that time.and then i have escape immmediatly.

• Philippines
8 Jul 09
Well, we could not really avoid it. The same things also happen to me and I remember during my high school days. my best friend accompany me to pee in the comfort room. When I walk down the corridors, my friend laughed loud. And, I ask why are you laughing? She says my skirt at the back is tuck in at my underwear. I look back and pull it as fast as I could. I am really embarrass and proceed to walk as if nothing happens.