Plus Sized Women and Self Confidence

United States
November 12, 2006 8:13pm CST
There's no denying it...Plus sized women have slowly but surely come to be more accepted by society, but the big question is, have they come to be accepted by themselves? Plastic surgery is more common than ever nowadays, and everyone seems to want instant gratification when it comes to body image. I'd like to know if you plus sized women have learned to be comfortable with your bodies. Are there certain areas even your boyfriend can't see/touch? Certain lights you still won't be intimate in? What holds you back being a woman of size?
5 responses

• Singapore
13 Nov 06
Well, i'm on the heavy side, and i'm very comfortable with myself. i believe that we cant predict life, so enjoy as much as we want to, and i love good food, and i do not like to be restrain from certain food because it's 'fattening', as long as i dont go overboard with stuffing myself, i think it's ok! my bf loves every part of me and he wouldnt want me to change in any other way!


• Singapore
13 Nov 06
i used to do that too...when i was with my ex-bf, i have to do it with the light off (if u know what i mean!) but with m current bf, everything just seems so ...natural... :0)

• United States
13 Nov 06
I still like the lights off, but I've gotten to where he can touch my stomach and see me a bit more now. I wonder why it takes so long...

• Singapore
13 Nov 06
;0) i think it's because you think too much. try to give yourself more credit. dont be so self cautious, im sure he loves you for who you are, love yourself more....

• United States
14 Nov 06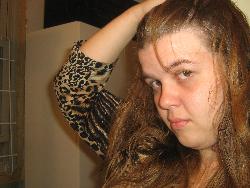 I am a plus sized woman. I have been heavy almost my entire life...except during my pregnancy and immediately after her birth...lol....go figure that one out...But, I am happier with myself big, than I was when I was 30 lbs lighter at the beginning of my parenting adventure! I am beautiful, and I have just come to realize it, thanks to the wonderful man in my life, who has helped me to see what a beautiful woman I am, inside and out.

• United States
15 Nov 06
What a wonderufl post! It is very encouraging to see so many women that say they have a loving and accepting partner that makes them feel secure, what do you think is causing this shift in body image so that big has become beautiful?


• India
13 Nov 06
I am man. I am single. I have some likes about women. And I want to tell you them honestly. Personally I like women with some extra weight. I feel they are the happiest of all and they can even make happy to all those with them. They are lovely and cute looking. Loving and caring. Slim women looks attractive in one sight. But they are very boring for long time relations.

• United States
13 Nov 06
I'm very modest so it doesn't help that I'm a bigger girl. My fiance doesn't say anything about it and tells me how beautiful I am all the time (to the point I want him to stop sometimes) but I'm not happy and I won't be until I get smaller. I know I'll never be in a single digit size, but I can do better. I'm just not active enough. And it doesn't help that I hate to sweat.