Can anyone suggest me some good home-made remedies?

India
July 10, 2009 4:07am CST
Hello everyone. I am 20 yr old and my face is almost fully covered with acne and pimples.Earlier I used to be very concerned about and tried using many products to get rid of them but nothing worked out.Instead I was left with scars to add to my woes. Can anyone please suggest me some good home-made remedies for my skin? I am a bit reluctant to go for any beauty products which are not natural as I have already suffered a lot using them. Please do help.
2 responses

• Malaysia
10 Jul 09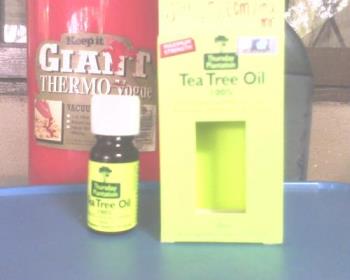 Tea Tree Oil (TTO) - www.thursdayplantation.com TTO is traditionally used for pimples and also for minor cuts and insect bites. Using a cotton bud, spot dab each pimple 3 times daily with one drop of TTO. It contains active ingredient called "Melaleuca Oil" which is pure natural 100% TTO. Below is my true photo of mine. 10mL per per little bottle for $6.30.

• India
10 Jul 09
Thanks a lot for your response. I have heard of tea tree oil but have never tried it. Does it work for scars even?

• Malaysia
10 Jul 09
TTO is not for scar, but if you focus on scar sea cucumber byproduct is effective. I don't know whether available in your living area or not. Where do you live now? or you can search on in internet by using keyword for "sea cucumber products in ...state...country. Very effective.

• Philippines
10 Jul 09
i have oily skin and get that acne once in a while, not that many though... but once i see them i use pan oxyl for it to dry it up. sometimes i use those whitening products that has tretinoin, not that much though, they dry up acne fast. i try to do some testing first before i use something on face fully, i try it on the side of my face to see if it will irritate me or not or make the acne worst. for home made i use aloe vera cut a small leaf then take off the skin, then rub the flesh on my face, again test this first. there was this one time i used vitamin e, i have some capsule here and i used the oil rub it on my face, it worked on others but did not worked for me. so i suggest before putting on anything in your face, test it first.

• India
10 Jul 09
Thanks a lot for your response jayrene. I guess that is where I was going wrong.I never tested anything before using it on my skin.I took it for granted that as it has worked for others it will work for me as well. Thanks for your suggestions once again and happy mylotting.