The Banana Tree: Ectopic Pregnancy?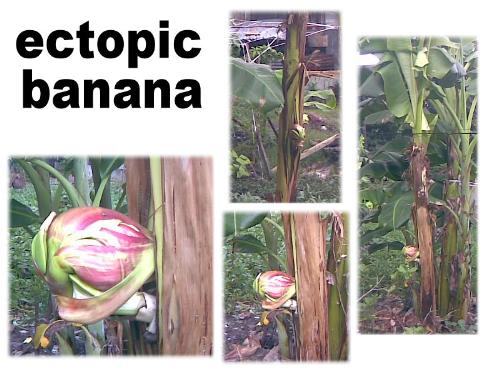 Lapu-Lapu City, Philippines
July 12, 2009 10:24pm CST
Hello everyone,While my wife is doing some gardening at the backyard, she noticed something weird with one of the trees. A banana tree with some kinda weird fruit started to come out. But notice how the banana heart that came out from its body, not from where it usually or should be coming out. I thought it's nice to share them with you, so I've got a shot of it before the heavy rains fell. So, what can you say about this? Is there any scientific explanation about this? Is this really some kinda ectopic pregnancy of the tree?

neil
4 responses

• Philippines
13 Jul 09
looking from the pictures u uploaded..it's really interesting my friend.and i think there's a good scientific explaination for this.

• Lapu-Lapu City, Philippines
13 Jul 09
yes jaiho, i am expecting someone to respond to this discussion, examine the picture and hopefully will give us a bright explanation with it.

• Lapu-Lapu City, Philippines
13 Jul 09
@swirlz
: thank you checking the picture. this is also our first time to see that kind and that's why i thought it would be nice to share it with you.

•
13 Jul 09
Hi Neil, It is really strange how its growing, but it is so beautiful and just watch how it progress and let us know, it looks as though it is going to flower or fruit, I have never seen anything like it in my life, thanks Neil for showing it to us. Hugs. Tamara

• Lapu-Lapu City, Philippines
13 Jul 09
dear tamara, i really find it very strange, imagine how the heart or the fruit bears from its body. that's why i didn't waste time, got my cam and took a shot of it. i thought it was great to share that. and you know what, after i took the photos, the rain fell. i don't know what's the meaning of it. neil

• United States
13 Jul 09
That really is strange, neil. I've had some other plants where new plants grew from the middle of a leaf which I thought was also weird. I guess it's a mutant because they can happen any time. I have two banana trees that I've grown indoors since I've had them. It gets too cold here in the winter for them to survive outside but, this year, I planted one of them in the ground to see if it would bear fruit before it gets too cold outside. I've never had a banana tree bear fruit before; they don't normally bear fruit indoors. I do know, however, that the male flower is produced first, followed by the females so the male is mature enough to pollinate the females. But that blossom certainly looks awfully low on the plant! I have new banana shoots coming from the base of both of my banana plants. If anything strange happens to either of them, I'll certainly share it with you. There are gardening sites online where you can upload photos of exceptional plants. Maybe it wouldn't be a bad idea if you could find one or two of them and post those photos. Someone there may be able to give you a good explanation of what's going on. Thanks for posting those photos! VERY interesting!


• Lapu-Lapu City, Philippines
13 Jul 09
dear mentalward, you know, when i saw the tree, i didn't wasted my time and get the cam to take the shot. i thought this is one of the very weird thing in the backyard at that time so i have to show you, share with you. i'll try to check some sites and as you suggested, i'll find an explanation from them. i know how you love gardening and i guess you had posted here a lot about your hobby but so sorry that i missed them for this is just the first time i had posted in this interest. i'll get back here and post the information if ever i get it. have a great day and keep smiling. neil

• United States
13 Jul 09
Thanks for sharing the picture, it is indeed weird. This is my first time to see like this.... I do know the reason behind,but, it is really amazing!

• Lapu-Lapu City, Philippines
13 Jul 09
dear che, it's so nice to see once again here, it's been a long time since i last saw your here. anyway, this really amazed the neighbors with this banana tree. and that really made me thought of sharing this. let's wait till someone post an explanation about this abnormal plant. neil