Hydragena (Endless Summer)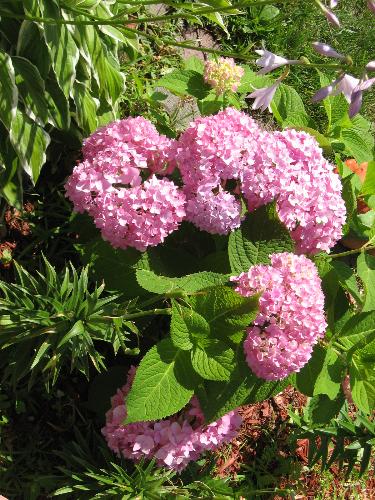 United States
July 13, 2009 3:32pm CST
This photo is of my "wifes" Hydragen/endless summer. It is now about the size of a basketball and has a lot of flowers on it. It didn't do so well the first three years. Now I have a Hosta next to it that's twice it's size. I have to transplnat that and also find another spot for the Endless Summer so it can grow larger etc. as I plan on turning this bed inbto an all Lily bed next spring. Those are my plans at this time anyhow. Hahaha! Do you transplant flowers in your yard often? HAPPY POSTINGS FROM GRANDPA BOB!!~
7 responses

• United States
13 Jul 09



My dad does. I think these are very beautiful. What a beautiful sight to have in your yard. Flowers give so much beauty and add so much pleasure to being outside or looking out the windows. wow! Nice!

• United States
13 Jul 09
Thanks a lot. This is the only thing I grow that really gives my wife pleasure. She likes everything but this flower is here baby so to speak. HAPPY POSTINGS FROM GRANDPA BOB!!~

•
13 Jul 09
i am always moving my plants about. i have a lot of containers but sometime i replant the container plant into the ground or mix it in with another plant in a container. at the moment i have some rather nice white asters in with some aconitum which is a bright blue and it makes a lovely contrast with the green leaves. my husband loves to 'interfere' in my garden and has just put down a new patio which i am'allowed' to put 3 stone animals and 3 containers that match. ha !!but i have also put my wheelbarrow with the rest of my tomato plant crop , plus my my bird feeder. joking apart, he does take an interest in the garden which is more than some of the guys who live in our road. thanks for your interesting posts about your garden, bob, keep em coming.best wishes to you and your family, from us in the GB

•
13 Jul 09
i did put an addition to above comment, but my laptop shut down, so i have had to plug it in to charge it up. anyway just to add , that i was rabbiting on , but forgot to mention that i am trying to grow a hydrangea too and it has a few flower heads, but yours is tremendous. excellent

•
4 Aug 09
thank you for the best response G Bob. I do love my garden and love to share it with everyone. I am not the best gardener in the world, I don't get enough time. But as soon as I am able, I will start posting some pictures so I can share . Your pictures are brilliant and thanks once again.

• United States
14 Jul 09

Another beautiful photo! Yes, when I had a house, I loved transplanting things in my yard, starting new beds here and there. I sooo miss that living in an apartment! Karen


• United States
14 Jul 09
oh i love hydrangeas! mine is blue,but i've noticed by adding mulch it will turn purple. i don't transplant often,unless i get one from somebody that's removing one from their yard.i got 3 new rhodedenrons last year that way. i am going to try to propigate the hydrangea this year though.i would like to have more.

• United States
14 Jul 09
That is very beautiful. We just planted our flower garden last year, so I haven't transplanted anything yet. My flowers aren't looking all that great this year. I hope next year is better.

•
14 Jul 09
Hi GRANDPA BOB, They are beautiful, I have tow bushes of them, one in the front of my garden by the side of trhe driveway and the other is in my back garden, they are all starting to flower nicdely and I had planted the many years ago, they are still going strong, year after year. Tamara