I went back to the stable this morning

United States
July 13, 2009 9:44pm CST
I took the weekend off working at the stable. Alot of you know I had to put my 31 year gelding down last Friday. I needed to get back! I could of stayed away a few more days but I needed to get back when I did! I knew if I stayed away to long I would of been harder for me to go back! I will get paid now working at the stable. That is not important! I love feeding out here! It keeps me busy and out of trouble!It was freaky going back out there! I kept thinking I would see my horse Major out in his pen and hear him nicker at me! Of course that didn't happen! I did see Major's grave in the back pasture. He is in peace now! I miss him and I still can't believe this realy happen! So that is what is going on with me right now!
2 responses

• United States
14 Jul 09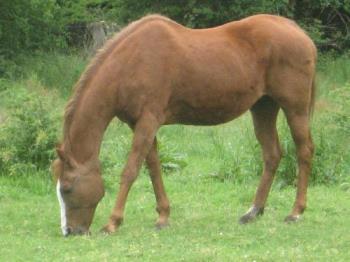 You did the right thing, and now you can begin to heal. It will be sad for you for awhile but in time, the more time you spend out there, it will get better. Just do your best to change your sadness into happy memories, and when you do cry, try to cry tears of happiness from those happy memories, yet let them be cries of mourning as well so that your heart can mend. I will keep praying for you and I did ask old dolly to show Major the ropes up there, I bet they're having lots of fun now. I will have to find a pic of Dolly to share with you, she was a pretty old gal. Oh wait I think I have one... let me look. ( yes I'm nuts I type like I talk LOL ) I found one YAY! Now if I can just figure out how to add it to this comment... let me see.. here we go. This is a picture of Dolly about 4 months before she passed away this pic was taken in April of 2008.

• United States
15 Jul 09
Thanks for the response and the picture of Dolly! As soon as I can hook up my scanner I'll post of photo of Major! thanks again!

• United States
23 Jul 09
No problem at all. I hope you are doing better these days. I would love to see a picture of Major. I bet he was adorable. One of these days I'm going to have to upload pics of the two little ones we have at the stables. They're almost 3 months old now and already 3/4 the size of their mommas. Growing fast and holy cow are they a hand full LOL. Anyhow take care of yourself and thank you for the best response that was kind of you.

• United States
14 Jul 09
I guess its kind of like getting back on after a fall. If you put it off too long, you won't get back on at all. I know it hurts to lose a beloved animal, horse, cat, even a bull (knew a lady who had a "pet" bull, she could saddle it and ride it!) It's hard to go back to the same place where they were. Having lost Nino, one of our cats last month, I know that coming home, we kept expecting to see him begging or wandering around, but he was gone.