What is your intake on President Bush?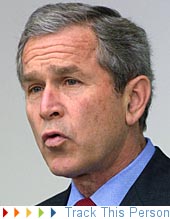 United States
November 12, 2006 10:19pm CST
Do you support him, despise him, loath him, dread him, love him? Why?I hate him. I can not wait until hes gone.
3 responses


• United States
13 Nov 06
I agree with you, but even so... his father still wasn't all that of a president either. (From what I hear from my mother)

• United States
13 Nov 06
First I'd like to correct a small, yet meaningful, mistake you made in your subject line. It should read, "What is your take on President Bush." Take and intake have very different meanings. Now, to answer your question, I not only like President Bush but also support him. While I may not agree with everything he's done, I do support the war on terror and our presence in Iraq. I voted for him in both elections and, if it were possible for him to run again, would vote for him again.

• United States
13 Nov 06
Yipes, yes sorry for that mistake. I haven't slept in over 24 hours :P So much homework to do. And thank you for your honest reply :)

• United States
13 Nov 06
Wow where do i begin...well skip it ill make it short and sweet.....i cant wait till he is outa office and a democrat moves back in...........BUSH SUX

• United States
13 Nov 06
*nodds* nice response :P I agree with you