WHich type of monitor do you have?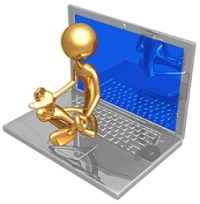 India
July 14, 2009 11:11am CST
Hi friends, you may have used a lot of computer monitors whether LCD or CRT or Plasma or Penetron. Which type you have. Do you have any problem using it?
2 responses

• United States
14 Jul 09
i currently use a LCD. there has been no problems using it, but i find the respond time to be slow compared to a CRT. i use to use a CRT for the longest time, but my eyes kept becoming uncomfortable after long periods of time. i dont think people generally use plasma for their computer monitor. here is a great link that compares LCD to CRT, http://www.webopedia.com/DidYouKnow/Hardware_Software/2005/all_about_monitors.asp personally, LCDs have no problems and i cant really complain about them.

• India
14 Jul 09
Hi friend, really nice link. A lot of info given there. As u used both which one u liked the most as general not specified for longer or shorter time.

• India
14 Jul 09
Hi, friend. As i own a laptop, i am bound to use an LCD. Well, there are some shortcomings of an LCD (low refresh rate, small viewing angle etc), but i don`t seem to face any problems till now. Happy Mylotting!!