Hen and Chicks in Bloom!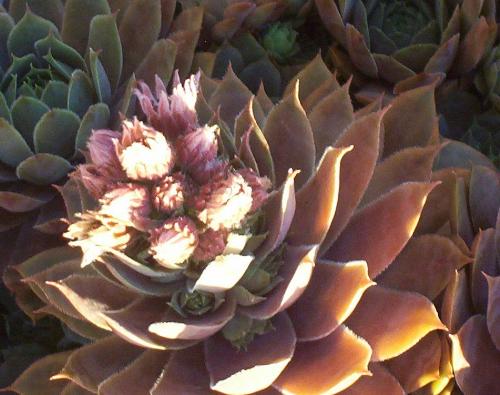 Lubbock, Texas
July 14, 2009 8:56pm CST
I've seen Hen and Chicks plants all my life and they've always fascinated me the way they propagate. A few years ago I bought a start of hen and chicks in a 6 inch pot. They were green with a little red tinge along the edges which was unique to the green ones I'd always seen. I repotted them in a big shallow pot, carefully separating the little chicks from the big hens and soon I had a pot full ready to be thinned again. Every year I've had to thin them out, but just hadn't gotten around to doing it this year except to take out a start for my mail carrier. I went out the other day to do a good thinning job on them because they haven't turned very green this year and I suspected they were too crowded. My hand stopped in midair, trowel poised to dig in and start the thinning process. One of the big hens is covered in blooms! In all my years I've never seen a hen and chicks bloom. Or maybe I just never noticed. Have you experienced unusual behavior recently by your plants?
4 responses

• Regina, Saskatchewan
15 Jul 09
I can't grow these plants to save my life. My mother-in-law grows them all the time and every spring gives me some for my garden. Sadly they never last let alone bloom. This year the hubs insisted on keeping them potted in the house, and I said sure as long he took care of them. Well he does, and they are blooming just like his mother's do! I am SOOOOOOOOOOOO jealous! LOL

• Lubbock, Texas
15 Jul 09
In the house?! You must have much more light in your house than I do. Yes definitely they do better potted than in the ground.

• Regina, Saskatchewan
15 Jul 09
My mother in law has been growing them in the house for years. She keeps them, like my hubs has this year, in a north facing window. Everything seems to grow well in a north facing window! LOL Well except for the plants I put there!


• Regina, Saskatchewan
15 Sep 09
Oh way cool! I get a BR for being a failure. The hubs will be SO proud! ROFL Thanks bead! Hugs and higgles..........

• United States
15 Jul 09
Gee, that's neat! I have never, ever had mine bloom. I guess I didn't know that they ever did bloom. (Learn something new everyday lol) Maybe they're one of those plants that only bloom when they're pot-bound? Mine are not in a pot, but in the ground instead. I wonder if that's why mine dont bloom, because they spread instead of staying tight together. It will be interesting to read others comments and see if any of theirs bloom too. I just love hen & chicks, looking at them I'm transported (mentally) to when I was little and visiting my gramma :-)

• Lubbock, Texas
15 Jul 09
I don't think pot bound is all that's necessary because that 6 inch pot I bought was so full they were growing on top of each other. Maybe it's a combination of that and weather conditions. We've had two real wet springs and then this year it's been practically drought conditions. I know what you mean by being transported. One of my grandmothers had hen and chicks too, as did every elderly lady in our little community where I grew up.

• United States
15 Jul 09
I have never seen them bloom. My mom has told me they will bloom. But I have never seen hers bloom since she is in another State. Thank you for confirming that this plant will bloom. I will be watching to see if mine ever bloom.

• Lubbock, Texas
15 Jul 09
Thanks royal, I thought everything was just getting weird in my yard. Glad to know this isn't really strange.


• United States
19 Jul 09
I love these plants! I was completely fascinated by them when I was a child. I loved plucking off a "leaf" and sticking it in the dirt and seeing another plant grow from it.