Do you enjoy looking at pictures of food?

United States
10 responses

• Philippines
15 Jul 09
Of course. It gives me idea on what I'd want to try next as long as there's a caption stating where to find it. :)

• Philippines
17 Jul 09
By looking at food it makes me want to eat and go to the nearest restaurant. Every time their is a party at my home i am the assign photography. I take not only photos of people as well as food. Looking at the pictures even after the events is over. i feel happy seeing the food that my family eat and help us one in cooking and even up to buying ingredients in the market. It gives a sense of accomplishment that it means being one of the participant makes the occasion extra ordinary and memorable.

• United States
16 Jul 09
Like menus? Sure, it helps me to decide what I want to order, if its a new place and all. Take some pictures of your own so we can see what's out there.


• Philippines
16 Jul 09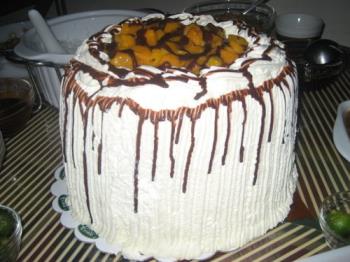 Yes, but of course when I do this there is a downside, I end up getting hungry and craving for it. But I also appreciate how a certain food looks on a photo like the way colors collide and the shadings. It is somehow like art appreciation for me. I don't know about some foods though, because some looks good in a photo but when I get taste it, i end up being disappointed because it doesn't taste so good. lol. Anyway, I uploaded a photo of one of my favorite foods. It is a Mango Bravo Cake from Conti's.:)

• United States
15 Jul 09
Not really I dont care for to look at pictures of food because it makes me very hungry and then I get a craving for it. So I try to avoid all pictures of food especially foods that I love to eat often like burgurs pizza or hotdogs because I would want to eat one immeaditley lol.

• Philippines
15 Jul 09
I do not particularly care for pictures of food. I like pictures of places and people.

• Malaysia
15 Jul 09
i luv eating, food - so i do enjoy looking at pictures of food, too.. i am not as lucky as to be travelling and enjoying 'new food'.. ,and i've never thought of taking pictures of my food, either.. i guess previously it would look a bit akward - but nowadays, with the camera-phone.. you wont attract other people's attention when you snap away...


• Malaysia
15 Jul 09
Yes, I enjoy looking at pictures of food. But I seldom take pictures on food while traveling. I like taking picture for my 2 kids. :)

• United States
15 Jul 09
Doesn't looking at pictures of food doesn't make you hungry? It does to me, they make me too hungry and then I snack on things I shouldn't eat.