I made dinner in the crockpot... but now he wants to grill!

United States
July 15, 2009 2:16pm CST
This morning I got up early and began making a crockpot lasagna. Now my husband decides it's grilling weather and he wants bbq chicken, which is actually a good idea because I don't know how much longer the chicken will be good for. I'm putting the whole crockpot in the fridge. Have you ever had dinner ready only to decide you want something different that night? What did you do with the dinner already prepared?
6 responses

• United States
15 Jul 09

That hasn't happed to me that often and when it did it was because we decided to go out to eat or someone came by and we didn't have enough, so we went out to eat! However some meals should be eaten right away and others actually taste better the next day! In your case your meal will be even better tomorrow! You got lucky!

tdemex

• United States
15 Jul 09
You are so right, my lasagna will taste wonderful tomorrow! I've just put the whole thing in the fridge, crockpot and all. Tomorrow I'll just have to warm it up.

• United States
16 Jul 09
I think that all Italian and Mexican food taste better the next day. In my opinion atleast.. it is the blending of the flavors longer and it just taste better.

• Jamaica
15 Jul 09
As long as it is not me doing the second dinner then I would not mind. I would do the same as you as I am not wasting food and so I would put the pot into the fridget o use tomorrow or whenever. I don't remember this happening to me though , although it may have happend as my husband was a great one for unecpectedly announcing that we are to leave now for the beach. After swimming at he beach then we would usually eat at a restaurant before we made our way home. We lived more inland in the mountains so it was a big thing for the children to go to the beach.

• United States
15 Jul 09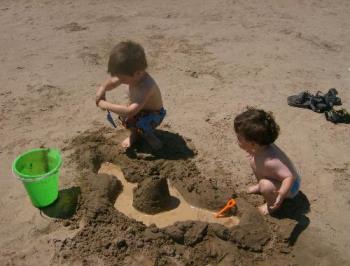 We went to the beach today too, we had a great time! I'll even share a pic... this is of my 2 youngest boys building a sand castle..

• Jamaica
15 Jul 09
Oh they are gorgeous children! I am glad that you had a good time. They look like they had a fabulous time

• Holiday, Florida
16 Jul 09
if you think you will eat it the next day or so it should be ok in the frig. but if not you could freeze it and eat it when nothing else is ready.

• United States
16 Jul 09
That Crockpot Lasagna sounds good...(lasagna freak I am)

But yes I have had to set food in the fridge cause my husband decided he didn't want it but something else. ticks me off a little but I survive.

like you I would put it in fridge. And there have been times I didn't want what he had and I have fixed what he wanted and eat what I had already fixed myself and have the leftovers for next day or a midnight snack attack.


• Shingle Springs, California
15 Jul 09
Maybe once or twice, but it was something I could re-heat, like soup. It's much more common for dinner to be planned, but not cooked yet and we decide to do something else.

• United States
15 Jul 09
Yum, I never pass up an opportunity to let my husband cook dinner! I bet that lasagna is going to be delicious tomorrow, too! I have had a similar situation a few times, and I just go with the flow. Throw the originally planned dinner in the fridge and move on. We do a lot of leftovers in our house, so I am used to it.