i need some friends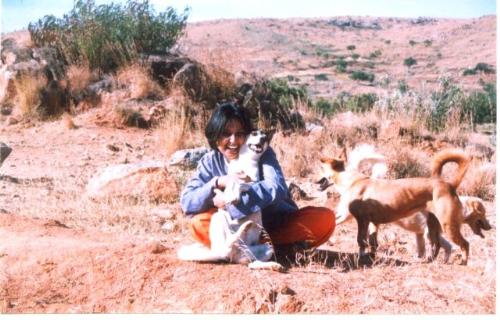 India
July 16, 2009 2:14am CST
Hi guys, I'm a British born Indian, that means I was born and bred in the U.K. but am of Indian origin. I now live in India with my hubby. I'm 38 and a female, I have no kids. I would really like to make some online friends as it's something that I'm pretty new to. I tried on Facebook, but am looking for a deeper kind of connection with people. I have no idea if this is the right place to make friends, but I'm willing to give it a try. I'm curious to see how generous people will be to me, please go ahead and add me as your friend. I see so many films, where people are so generous to each other, being absolute strangers, and I wonder if the REAL world is actually like this? Who knows what's in store? Anyway, I'm deeply spiritually inclined, but believe in the essence behind religion, rather than in religion itself. They are all good as long as you have the RIGHT intention and a good teacher. I'm really into meditating and revisionist history. OK lets see what destiny brings, waiting to hear from you.
10 responses


• India
29 Jul 09
Hi there Miss Seychelles....I see lovely seas...breezes....mmm..yummy! I don't have a friend in Seychelles either!Yes I do have a very British accent, it's something I can never loose, but sometimes the people don't understand my accent here, and so I have to adjust it alittle accordingly from time to time. Hope to hear from you again! Take care

•
29 Jul 09
Miss seychelles? Gosh i wish

anyway nice to meet ya

.I can understand what you mean by adjusting but anyway what's next? Do you like it in India or you wish you were back in the Uk.Since you grow up there.What is it you missed about it?

•
3 Aug 09
Hi I can't believe i've read all of this...hehehe don't like reading long,long you know what i mean... but i asked for it.. and it was worth it.Learned a few things i didnt know or maybe i knew but was looking at it in another perspective. But anyway compare to india seychelles is just a baby =)Life on the island is not that perfect especially now that the country is under a reform. Iam not that of a writer like you

maybe more words would come later but been nice talking with you just wanted to let you know that i have read what you wrote

talk to you soon cheers!



• India
19 Jul 09
Hi, I'm near Bangalore, actually about three hours away from it. Where are you?

• India
28 Jul 09
hey woww.....im from bengaluru.....n three from here did u mean MYSORE???

• India
29 Jul 09
No actually, I'm actually across the border in Andhra Pradesh.It takes me exactly three hours by train.


• Indonesia
6 Aug 09
Hi, there... I am also happy to be your friend. Although, I am far from your country. I am from Indonesia. Last February, I met an India lady in Singapore.. she is my nice friend until now.My name is Riani.It is really my original name. I am also looking for international friendship regardless religion, rases, and boundaries. I believe people are good in nature so by joining mylot, I hope I can find a true friend. When the first time I read your respond in mylot. I don't know I have a kind of feeling like closeness. Hehehehe.. will see about that, let the time rolls our relationship into what it should be..

• India
6 Aug 09
Hi there Riani, I think of you almost everyday now, I wonder what your going through, and try to understand alittle about your life from your discussions. I've never been to Indonesia but there is a girl here from Indonesia. Since her marriage she has been staying here in India. She is very nice and very innocent. Other than that I have really no frame of reference for Indonesia. I hope that in time we can get to know eachother better and maintain a longterm friendship. I feel we have a sisterly type of bond and hope that we have many more things to share in the future. Take care....please call me Angelie

• Indonesia
6 Aug 09
Hi.. my discussion here reflects the reality that I have been trough. I am a new mother and also a new housewife. I have been married for three years. Now, I have two children age 8 months and 2.5 years. Trying to adjust myself to long life carrier as a mother, a housewife and a carrier mother. Feel free to share knowledge and experience because learning is gained by experiencing the life itself. I have a positive feeling that this is my pathway to be a useful person.

• India
14 Aug 09
Look forward to meeting you more my new friend! Happy mylotting!


• India
16 Jul 09
I am 18 yr old and hails form Orissa, India. Indians are naturally spiritually inclined. There exists a big difference between Indine Cinemas and reality. If you want friends first try among your relations starting from your parents/brothers/sisters, and then your cousins etc. Then you may try your neighborhood and surrounding. If you have a RELIGIOUS inclination, you can try joining such clubs that are amply found nowadays. This place is good for online frends. You can also try ORKUT

• India
16 Jul 09
Hello there, Thanks....I'm actually looking to make good friends here....what you wrote was all abit clinical and obvious, but thanks for trying anyway dude. I'm not your regular Indian....British born and educated....so local community and things don't work for me here in India.....as I'm not like minded in terms of breadth of experience, I'm also not religious, spirituality is something totally different. I need to meet people who are more ecclectic...and that means international usually. I prefer mylot, because the responses come much faster than orkut or facebook and also orkut seems to be more Asian, and Facebook more English, but mylot.com seems to bring people from all over the place, I think it's because there is an opportunity to earn from here. Anyway take care

• India
16 Jul 09
Hi everybody, I'm so happy to be alive!......really looking forward to networking with you all out there and having a virtual party. Please write and introduce yourself...waiting

• Philippines
29 Jul 09
Hey sritinity, I'm from the Philippines, and I don't have an Indian friend. Except for some indian looking malaysian citizen friends i have.lol I'm interested to be your friend! There is nothing wrong about being spiritual, we filipinos are also spiritual in nature. have a nice day! see you around

• India
31 Jul 09
Hey there Beaushell, thanks alot! I don't have any friends in the Philippines either! Isn't this great to be able to communicate and make friends across the seas! i have just written at length above re India and the U.K. perhaps you would be interested to read it (saves me writing it all again)...and lets you know abit more about me.....please tell me more about yourself....anything you like. Take care

• Philippines
27 Aug 09
Hello sritrinity, I am requesting a friendship in your profile now. And wishes that we are going to be a good great friend. As I read about your articles. You value friendship and that's what I am looking for. How good you are as friend, sritrinity? For me friendship is forever not today or not at this sites only. In my views about online friend is that. If she/he added me as friend. Meaning were connected together and exchange ideas and opinion together even in the outside world or outside of the social network like mylot... I hope your friendship is real...have a nice day!

• India
21 Aug 09
Hi dear, I m archana from west bengal. lets be friends

• Philippines
21 Aug 09
Well,

if you still wanted to.probably i can still be a friend,inspite of being a little brat

. i do need friends too, as some are gone with their business and only few, very few gets to hang out with me


• Delhi, India
15 Aug 09
Hi sri!

Nice to meet you

. It is good to know that you a British born Indian. I am also from India and am here for pretty long time. I keep looking for like minded friends and if any one of them belongs to my own country, that is an added bonus. I feel that those who are from India could understand each other in a better way, because we can relate to each other through our culture and traditions. I've added you as my friend and I'll try to respond to your discussions, from now onwards, provided I have something to say on your discussions and I can relate to it. Hope to see you in my discussions, as well. All the best.


• India
28 Jul 09
hey sritrinity well...m from INDIA too....as some body said we r spiritually inclined by birth....n whether believe in spirituality or not we have a culture of accepting people.... so u need not be lonely at all....gimme ur gmail or yahoo id...n i bet my humour keeps u smiling.....