What do you think of the dancing inmates?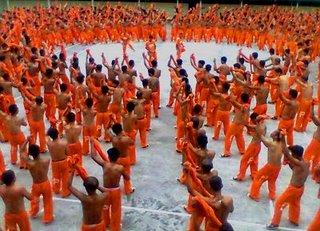 Philippines
July 16, 2009 8:41am CST
I've seen all their videos in youtube and its really awesome... their choreography, groove and enthusiasm really shows off every time they perform. I love the way the warden had encourage them to do time and let them forget about nasty stuff. They say an idle mind is a the seat of the devil... having this kind of activity really helps them divert their attention to a more creative stuff... I've had them in my favorites section http://www.youtube.com/user/pichickoyable oh, my i love the Rico Mambo and the Thriller... look for byronfgarcia videos... he has an excellent collection of all their performances.... and the good thing about it, its now a tourist attraction in Cebu, Philippines.
4 responses

• Philippines
20 Jul 09
Since I am a Filipino, I am really proud of the dancing inmates. I particularly liked their performance of JaiHo and Thriller. I totally agree with you that this is a much better use of their time. They may have a lot of troubling things in their life but at least this is their way of trying to make things right. I am also happy that they help the tourist industry of the Philippines. When I go to Cebu, I hope I can catch one of their performances. :)

• United States
17 Jul 09
I think it is one of the best things to happen for them.They are in a holding position, and will be there for a while; While there, they can do something useful with their time and I think that that is one of the best things that they can do for themselves. Sometimes, you can be in the bleakest of times and situations and come up on something useful;

•
16 Jul 09
dancing inmates is terrific. the groove and the moves are great and to think that it was a choreography of people who have been known by society as criminals. it is a very awesome thing to see them dancing and following the rules of the music.

• Philippines
21 Jul 09
jail warden i think is a good leader! technically, not all prisoners in the Philippines are guilty. Some of them are accused wrongfully (is that the right term?) anyways, they have the right to dance. How about the others? Do they force them to dance?hahahah...