what do you think of CLOWNS?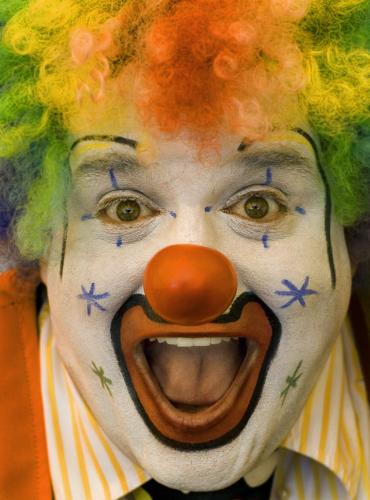 Philippines
July 17, 2009 5:18am CST
JOKERS, JESTERS, whatever you call them. Most of my friends don't like them. They just hate their make up and their magic. But why do kids love them besides their magic tricks? What about you? Do you LOVE OR HATE clowns? share your views! thanks.Ü Guess i'll be back tomorrow. Have a nice day!.Ü
4 responses

• Philippines
18 Jul 09
i like clowns! i like them coz their face always looks happy and with big smile! it gives me a feeling of being happy! sometimes i feel like i am a child ...still admiring the tricks and funny things that clowns make...and i think its a good feeling to be "childish" sometimes...coz a child really have a shallow happiness... what i think about clowns...is that they are also humans that have feelings, we really do not know about their lives, we do not know how they really feel coz what just they show us is all happiness and fun...those people also have their problems and we don't know that behind those funny face and wide smile are tears and loneliness! i have watched a tv program here in my place where they film a life of a clown...actually that's areal story...and from that i learn that these clowns are also people ...real people and not just like toys...

have a nice day!

• Philippines
18 Jul 09
Yes they are. And they've got a lot of effort in putting smile on the faces of those people, right? They're just mere human with lots of talent.Ü


•
20 Jul 09
I think they have too much makeup on. lol But they are good entertainers, I respect what they do. I love it when they blow up balloons and make them into something creative. Without the makeup and costume, they're just normal humans like us so people shouldn't be afraid of them.

• Delhi, India
20 Jul 09
Hi Koal! I think jokers or clowns needs to be loved. They always make you laugh, specially in circus and other such events. It does not matter even if they wear heavy make up or look silly. What matters is their actions and gestures and if anyone can make us laugh with his gestures and antics, I think, his acts and efforts should be appreciated.