My dog continues to show anything that is not moving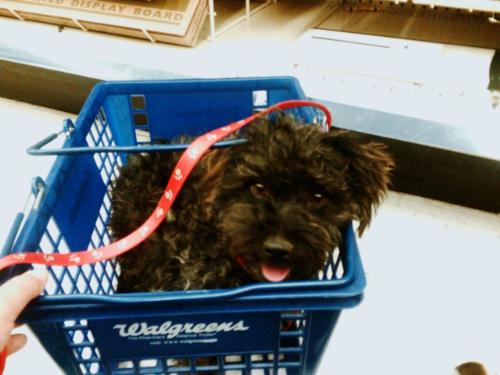 United States
July 20, 2009 11:01am CST
Really, he is super lucky that I love him so, otherwise he would have to be working to pay for the things he has chewed till now. We play with him, he has toys, he has things we have converted into toys, yet, he is sneaky

But I can stay mad at him

What can I do to make him stop?
5 responses



• United States
20 Jul 09
Hey Shelly! He is in that teething puppy stage and just wants to chew anything and everything! You should get him a rawhide chew toy! My dog used to love that! Do you have one of those? They make them into like twisted bones and dogs will chew on them for hours at a time! They love those rawhide chewy toys! He will eventually get better, but right now he is a puppy that is cutting his teeth and needs to chew! So you have to go to the pet store and get him chew toys and just keep trying to train him! Don't give up! It takes time!

• United States
21 Jul 09
I woke with a sinus headache and I am on mylot, I think I did not slept very good but I am trying to be on a sleep schedule where I can be more productive in the morning and well I do not feel productive. I will get them raw hides, and see what happens. My only problem is that we have another dog and the only times they had then they got grumpy with each other, I will give it another try tho. I am not giving up on the little guy


• United States
20 Jul 09
Wow.. My pup still does it.. she is sneaky.. she would dig in the garbage when we are not looking. I can't really punished her as i am not there to see it happen. No matter what she does, I still love her. Its just funny that you can never get mad at your dogs.. My little girl would just give you the sad puppy eyes that she is sorry look and would never do it again. I got smart and just make sure anything that can be destroyed is kept away before we go anywhere! I would suggest Green apple spray but i am not to sure how affective it is to your dog but that is what our vet recommended. It didn't work on ours at all she still does it.

• United States
21 Jul 09
Spank him! Spank him! Spank him! Spank him! Spank him! Spank him! Spank him! Spank him! :D...or not...


• United States
20 Jul 09
There are anti-chewing sprays that can be bought in most pet stores. The sprays are totally safe for your furniture and simply leaves an unappealing taste in your puppy's mouth, which discourages him from chewing that object again. It might also help to introduce your puppy to things he can chew, such as dog bones and pig ears (my dog LOVES these things!) Most puppies will start to ignore things they aren't allowed to chew when they have their own chew toys and treats.

• United States
21 Jul 09
I need to look for the anti-chewing sprays, my problem now with dog bones is that it can't be an all day long thing, we have an older dog, and they seem to want to fight over those things. Thanks for the advice, there are ways to do things and we should find one.