Getting Bigger!!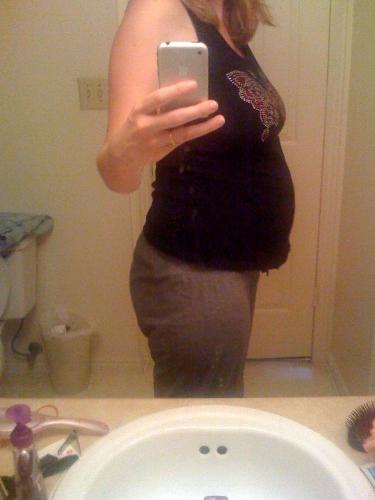 United States
July 22, 2009 4:48pm CST
I have finally hit that third trimester. I feel sick, tired, and icky. But every time the baby kicks I am sooooo excited. I really have baby fever bad. I am really excited because I was not very well off with my first pregnancy and relied of family and friends to help me get stuff for my babies, and there was a lot of hand me downs. With this baby, I get to actually plan for a nursery and pick out what I want. I set a budget, but for the first time for me, it is so exciting to go buy cute baby clothes and blankets. I am doing a sports theme, and am so excited about it!!
4 responses

• United States
24 Jul 09
I had an absolute blast planning the baby's room & buying all the stuff for it & of course we got tons of stuff at the baby shower! I used to never go to the baby section when I went into a store, only if I had to buy a gift for someone else's baby...now I find everytime I go into a store that's where I go, regardless if I need anything or not! Its just so much fun to just look at everything!! I still go in her room & rearrange a few things! My 3rd trimester I felt pretty good exceot for being tired & leg spasms at night at the very end....good luck to you!

• United States
24 Jul 09
Thank you so much for your comment! I am having the leg spasms so bad right now. They hit me at 10:30 every night like clockwork! Drives me nuts, but if I take a bath, they usually go away...but by then its really late, and I have to get up early...so I am super tired. I am so ready for this baby except that I haven't bought everything that I need yet. And I agree, I have baby fever bad!! I want to do nothing but shop in baby stores and baby sections. I am even getting excited over formula at Costco!

• United Kingdom
23 Jul 09
My bay girl was born just four weeks ago so I remember being six months pregnancy. I felt excited having my twenty week scan and hearing that my baby is healthy. I began to feel more relaxed and bought a few baby things. My sister and a few friends kindly gave me some clothes for my baby and a car seat. I already had a moses basket. I bought a double buggy. I had maternity clothes but in later pregnancy they got tight and uncomfortable. I had a few outfits that still fitted me luckily. Feeling my baby kick was exciting. I felt unwell in my last trimester and uncomfortable after 37 weeks. It was worth it for I have now got a lovely little baby girl called Amber. Good luck with the last few months of your pregnancy.

• United States
23 Jul 09
Thank you for your nice comment. The moses baskets are so nice, I had one with both my kids, and they are sooo convienent! Have a great day!!

• United States
22 Jul 09
How EXCITING!!!!! Well I hope you have a fun time buying and getting all the decor for your baby boy's room!! Yes towards the end you get tried and just ready to meet your lil one!! But your almost there!! Good Luck and Congratulations!!

• United States
22 Jul 09
Congratulation!! I have two and I know how it felt. 6 months? if so you should start walking as much as you can, and when it comes to due date... you will be ready for the baby. My first one took me 6 hours in labor and then my second one is only 2 hours. when I feel contraction, im not going to the hospital right the way yet... cuz all they do just hold on to me. I just keep walking and walking until the contraction came every 10minutes then I went to the hospital. it is a great experience about having a baby and you will feel so amazing cuz of new life

• United States
22 Jul 09
I wish I could walk, but I am on bedrest. That recent photo was taken in my bathroom, because according to my doc, I have bathroom priveliges. And both of my labors were induced because my baby's are so big, I had to have them early! So, I have no idea what it is like to actually go into labor without a shot of something.