Do I have allergies or a summer cold?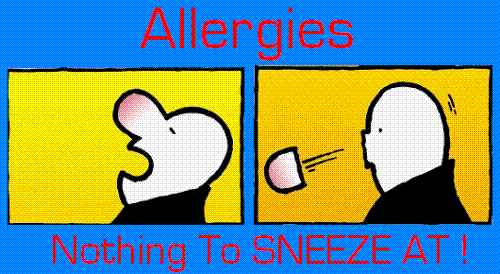 United States
July 23, 2009 12:30pm CST
I am even voting for the flu, because yesterday I felt achy and while I was out I touched my daughter and she actually felt cool, and we are in the desert. Well here are my symptoms: teary eyes cough sore throat sinus headache sinus achy at times So is this allergies symptoms due to the humidity we are experiencing? Or is this a summer cold?
6 responses

• Canada
30 Jul 09
Oh well, with those symptoms it could be any of the above. Possibly allergies, but it can be any. Hopefully it's not all:) Me, I had the flu over a month ago and I'm still going around with a silly cough. Keeps going away and coming back. This year the summer hasn't been too good in here, maybe August will bring something different.

• United States
24 Jul 09
It is I your clod!!!!! ohhhhhhh................. I will be with you for the rest of the month!!!!!!! THE REST OF THE MONTH!!!!!!! REST OF THE MONTH!!!!!!!

• United States
27 Jul 09
But I don't understand? ....why....?

• Philippines
3 Aug 09
If you experience that everyday then that allergy if not then its not allergy... it only due to the change of weather... just take a lot of citrus juice. it will help boast your immune system to fight against allergy or common colds... that was my doctor advised me.. i used to have allergy before and i experience it always.. luckily i dont have it now.. i always have citrus fruits in my table.. whenever i feel that my nose is very itchy i just take some orange... or squeeze some lemon with a little amount of hot water or if you want you can take it pure..

• United States
23 Jul 09
Hey Shelly! I could be either one! If you are feeling sick and achy then it might not be sinus or allegies! Achy usually means just plain sick! I have some sort of stomach virus now! I went to my docs today and I thought it was just nerves for my pending "vacation" because I'm nervous about my plane trip and seeing my mom and stuff but it turns out I actually had a low grade fever! So you just might be sick!

• United States
24 Jul 09
Thanks for the info, I felt that achy went hand in hand with the flu, when one feels achy to the bone, or even achy and tired, what you said makes sense. I also would have believe in your shoes that traveling would make nervous and hyper. I hope that fever goes away, they are even less fun in the summer. Take care of you


• United States
23 Jul 09
My breathing changes with the weather. During the winter I get sneezing, cold and stuffy noses. I don't know if it's allergies or a cold. Hopefully it's not allergies...would that mean I'm alergic to snow? lol My nose is just all screwy, no matter what the weather is.

• United States
24 Jul 09
I believe you are allergic to snow. lol seriously, there is something we are all allergic too, they even canceled classes on that day because people feel the symptoms all at once

but seriously I feel bad for you, breathing problems are the worse in the summer.