hi guys!what you think of my new pair of heels?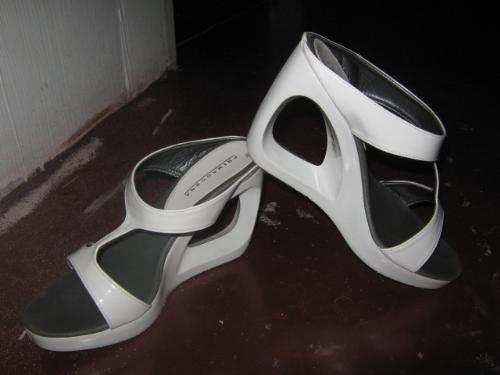 Philippines
July 28, 2009 6:47am CST
hi friends this is my new pair of heels..honestly ive been looking for a new heels and cant find what fits or nice to wear.ive been going to a lot of malls already but still cant find whats best for me..heheheh!

now i found it!and it was worth it..this only cost 1000 php.and ive used it already i can walk this for long periods of time and my feet doesnt hurt!i love this heels!and i never regret buying this...the heels i supposed to buy is wage type but unfortunately all the stock are sold..but hey!this is much better!

happy posting!
3 responses

• Philippines
30 Jul 09
Those heels look high tech! lol! Well i love ladies who love heels. I don't know but it does makes them sexier. I would always request my former girlfriends to wear heels when we go out on a date. It makes them look classier and it kind of compliments the shape of the legs. I'm glad you love heels because most ladies would complain about the pain it brings on their feet.



• India
29 Jul 09
i fell down 4 days ago and i got a blow on the back side of my head. now it is paining. i have consulted with my doctor and he said that nothing wrong. he says that perhaps i am thinking a lot for this stroke. i have changed my spectacle too. it was broken by that accident. so i am not so well now. take care.


• Philippines
28 Jul 09
Wow, that's one nice heels you got there acie! good for you. Though the hole there is kinda disturbing to look at.


• Philippines
28 Jul 09
yeah, i have one nice pair of white slip-on. I always use it when i'm going out. That's a unique feature of your heels there acie. I hope they could produce more of those.