Hulk Hogan & Linda JUST Divorced? New Reality Show? I Hope Not!!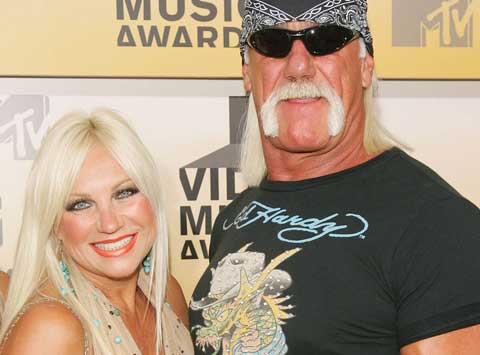 United States
July 28, 2009 12:05pm CST
I just read today that Hulk Hogan and his ex-wife Linda Hogan had just settled their divorce. I really had thought that they were divorced already for at least a year now. Oh well, I guess that they can get on with their lives now. With all the reality series on television I would think that now the mom, Linda will want a show for herself. But who would watch it?


The only show that was good was "
Hogan Knows Best
", after that the "
Brooke Knows Best
" show sucks. It is not interesting to me and appears totally staged at all times.
Have a great day and happy myLotting!!!

5 responses

• United States
28 Jul 09
I have to admit I never watched their shows. I did see one episode of Hogan Knows Best. And I thought, well that's okay, it's nice to see a happy family together on TV showing that 'famous' people can have a loving family. Then the whole thing fell apart. I remember first reading how Hulk Hogan found out his wife had filed for divorce - a reporter called him on his car phone to ask him how he felt about his wife Linda divorcing him. That's how he found out. Who wants to watch Linda or any other Hogan now?

•
29 Jul 09
i didn't watch their show either, but i do hear people around me talk about their show. it seems interesting to me. wish in the near future i will have a chance to watch their show. because i think it would be a funny and some kind of black comedy. not just ha-ha soap show. Even from the show i think we can learn some thing that can benefit our own life. sometimes it can also reduce our pressure from the reality. happy mylotting.

• United States
28 Jul 09
I think it has been about a year since she filed for divorce. But I think since then they have been working out who gets what. It is sad after so many years that they are getting a divorce. I was hoping that maybe they would work it out. Their show was pretty good. I don't think Brooke's is that bad, but i think all reality shows are partially staged. Just like on real world where the directors but stuff in peoples beds to make it more interesting so that the cast would fight over who did it.

• United States
29 Jul 09
I thought they were divorced also..I did like the Hogan knows best show, but not so much the Brooke knows best. But boy can she sing..lol You are right though, I do feel that alot of the Brooke Knows Best show is stagged.

• Philippines
29 Jul 09

The Hogan is still my idol. i still can't believe this has happened to him. but i think he's ok with it since he's done alot in his life. like that show "gladiator". they're probably would have air their own shows too.



• United States
29 Jul 09
Oh, I hope and pray that Linda does not star in her own reality show!! That would be torture!! I loved "Hogan Knows Best", I thought it was hilarious!! But look around... REALITY SHOWS DESTROY FAMILIES!! Nick and Jessica... The Hogans... Jon & Kate... there are probably more! It's kind of bitter sweet in that I LOVE reality TV, I love all of these shows that I have mentioned, but you hate when it tears their families apart.