I Got Fish, Do You?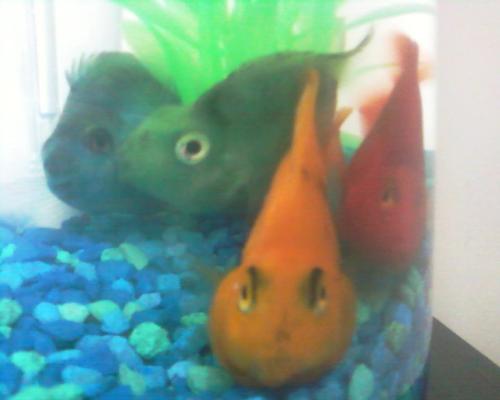 United States
July 29, 2009 4:08pm CST
Yesterday I went to the story and I got these awesome fish=]I have a Red, yellow, Blue and Green Fish. I think they are called parrot fish, Red parrot fish I think haha.. but yeah they are awesome looking.. I took a Picture and look at the small Thumbnails Below. the Discussion.=] They cost like 13 dollars a piece I GOT FISH, DO YOU?
5 responses

• United States
2 Aug 09
I have never seen them is such an array of colors before. I might question whether or not it was natural. They appear to be sitting on the bottom of your tank, which could mean they are stressed (unless they were just posing for the camera). I would check you water quality and make sure your heater is keeping a constant temperature.

• United States
3 Aug 09
hello CroakDesigns, Yeah when I first got them they were always at the bottom of the tank I think the reason they are in the picture maybe they were getting ready for the picture but, The tank was only a 3 gallon so yeah I had to upgrade haha.. So yeah I eventually went to a 20 gallon and they like swimming at the bottom still but they go up when we are not paying any attention to them or they think we aren't look. They also follow each other so when one goes up high they all do for some reason. But yeah they are very bold color for fish ..I like it.. a lot.. =] Well yeah take care and thanks for the info ..

• United States
31 Jul 09
Sadly, those fish are dyed. Their normal adult color is orange, sometimes you can get a juvenile that will go through a yellow phase before turning orange. I had two that did the yellow color before turning orange. I had them as juveniles, so knew they weren't dyed. Now, this isn't a lecture, just passing on information so you can make an informed decision in the future. There's several different ways fish are dyed. One is to inject the dye under their skin. The other, they actually dip the poor fish into some acid to remove their slime coat. Then, they coat them with the dye. Most fish do not survive this process, and I imagine it is very painful for them as well. Fish that are dyed tend to not live their full potential life span. My blood parrots lived about 9 years, and I actually had a problem with my tank that killed them off. And, the dye wears off. Depending on how they did it, I would say within a few months to a year it should be completely gone. The price you paid is about normal for them. You can pick juveniles that aren't dyed for around 8.00. I've seen PetSmart scamming people and selling orange adults(not dyed) for 28.00. I asked what the difference was, she said because they were orange with no stripes. I said, well, when they're adults, they're all orange with no stripes. The grey color and stripes IS their juvenile colors. Like I said, just scamming to make a buck. Another thing that is kind of common, is fish mutilation. Ever seen a unicorn parrot or sweetheart parrot fish? Sweetheart parrots look like a heart, what they do, is cut off the tail of the poor fish. Unicorn parrot fish have something on their head cut to make a horn appearance. Nasty cruel stuff they do. You have your fish, so enjoy them. But in the future, I would suggest not buying dyed, tattooed(yes, they tattoo fish now as well), or mutilated fish. It's a very cruel process the fish endure, and it should be banned. Buying these fish just encourages them to continue doing it. When I go to a store and see a fish like that, I immediately tell the manager about it, and refuse to buy anything from that store ever again, and make sure they know about it. Commonly dyed fish-glass tetras, corydora catfish, blood parrots, jellybean parrots, convicts, etc. Here's a link with some info, and do a search for more links and photos of dyed fish: http://parrotcichlid.com/dyed_fish

• United States
1 Aug 09
Hey Signal20, Wow I'm amaze when you told me this I can't believe it it looks so normal to me when I look at them but when I saw them today I was surprise.. I look at the link and it said about black marks and that means they haven't decided there color yet. Also I was a little wow when They usually turn into the color yellow orange or real dark red. But yeah I wish they could be different colors like green and blue and stay like that like mines.. I heard the dye fades off in time. But wow.. I didn't know anything about this.. till now.. wow.. thanks for telling me though.

• United States
2 Aug 09
It's common for them to get black spots. From what I read years ago, it's usually a sign of stress. It could be stress from poor water quality, being bullied by another fish, or even when they spawn they can get the black spots or marks. So, I wouldn't be too alarmed by it, just make sure the water quality is good, and it's not being harassed by another fish. No need for meds, the black will clear up on it's own. Here's a great forum/site about blood parrots with lots of great info and great people http://bloodparrots.stupumen.centelia.net/ I haven't been on there in a few years, but I see a lot of the same people are still there. Take care and good luck with your fish!

• United States
2 Aug 09
Somehow I missed this response. Great information here, and so true. I too would boycott any pet trade that deals in dyed and mutilated fish and animals.


• India
7 Aug 09
Ya. I have a fresh water tank. I have 3 gold fishes and a kissing gourami. All of tham are over one year old. But i've not added any new fish in last one year due to lack of space. I'm wishing to replace it by a larger tank soon, so that i can add more fishes.

• United States
7 Aug 09
Hey Koollook, Yeah It was like that with me first. I didn't have the fish for a year now but yeah when I first got them I thought the current tank was big enough come to realize it wasn't and I had to get a new tank ASAP. I had Five Fishes in one 3 tank. Well like a 4-5 days later we end up getting a 20 tank and it's nice now and we pay $77 but I went to PetCo and I found out they had one $79 for a 29 Gallon tank. lol.. Well yeah I felt bummed haha.. but in the end.. I'm happy with my fish there are 5 fishes and 4 algae eaters there really small compare to the fish.. I'm planning to get more becasue I live down the street from a Aquarium store and they have really nice tropical fish that you only see in movies. Also they have good deals like 5 for $10 and etc I think it's really good and I'm going to go back for that 5 for $10 because those were really nice fishes. Well yeah I wish you luck and take care your fish and yourself Have a nice day.. =]

• India
30 Jul 09
even i love to have an aquarium in my house with lots of colourful fishes like gold fish angel fish etc. etc. but when i go to my native place, who will take care of these fishes and supply food and clean the tank. so i suppressed my desire.

• United States
30 Jul 09
Hey vathsala30. Yeah I'm trying to get a nice big aquarium and it's sort of hard and expensive some. Especially when it some to buying fish tanks and stuff. Well yeah thats funny.. =] but I also want a nice big aquarium and have colorful fish and stuff. =] It would look awesome.. take care. =]


• United States
30 Jul 09
Hey _sketch_, Oh I never thought I would ever get fish in my life when growing up. I think you can get a salt water tank it just sounds expensive lol.. Yeah it can be something in the future for you . It would be neat thought it even sounds like it haha,, I would never thought of a salt water tank haha... Yeah I those fish do look awesome.. and I'm hope in to all the colors soon.. Because they look fake / real haha.. but very cute haha..