BB11:OMG so funny!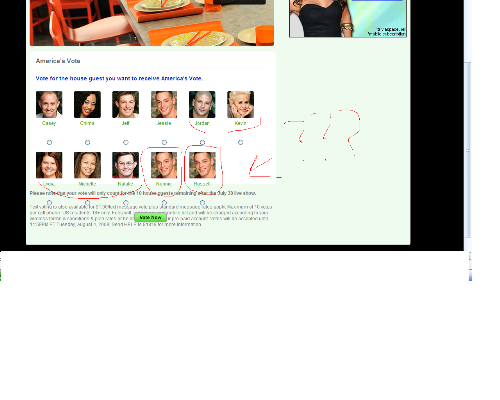 United States
July 30, 2009 8:04pm CST
If you haven't seen it don't read this. Ok so I love the surprises for them. We all knew the clichques would end sooner or later. But I lvoed Casey speach! OMG he so went off on both Ronnie and Jessie,Jessie's face was getting all red. But ok here is the weird thing. America could vote for who gets this special power right? Well check out what the cbs.com site looked like while voting! I overheard Jessie say a few times on BBAD about how producers kept telling him he should fell more apperactive and maybe this is why. BB fixed this whole season! Ok so this HOH is an endurance which we all thought and so did the HG's. SO who has the chops to stay in and win? Since they are all fighting for themselves now what wil happen? I SO can't wait for BBAD!
3 responses

• United States
31 Jul 09
LOVED Casey's speech! And I loved watching Jessie's face, not only when Casey was talking but when Julie was asking Lydia and Natalie what was going on. His eyes were about to pop out of his head. I'm guessing it's because he was afraid Julie would slip and say something about Lydia doing "favors" for him. If that secret came out, I think there would be one angry Pit Bull!

• United States
1 Aug 09
I know,how long does he think he can get away with that? And why does NAT even care,she kept saying oh I can't sleep next to Jessie or Kevin in the have not cus I don't want to lose my relationship! Gimmie a break like her man isn't already pissed for how she has been acting with jessie!

• United States
1 Aug 09
I think that Jesse loves being in the middle of these two chicks. I was laughing when Julie asked them about it. He was about to freak out!


• United States
31 Jul 09
I loved the speech too! Good for Casey to speak his mind! I love that Jordan and Jeff are both still there. They are very cute together. It is one of the best showmances that they have had. Are you saying that Jesse won the special power? I was hoping that Jeff would win. Do you know who won hoh? I am all for spoiners, so if you post them, I am all over them.

• United States
31 Jul 09
No the voting for the special power is still goiong on at cbs.com and will be til tuesday. If you look at the picture it shows Jessie's face three times above other peoples names,no pic of Jordan and half the names are messed up. They finally fixed it sometime last night but alot of people were screaming fixed lol. I am gonna start a new disussions regarding who won and what not just in case.

• United States
1 Aug 09
I went on and voted for Jeff too. I truely hope that he wins and gets Jesse out !


• United States
31 Jul 09
Angie, I've been watching the 24/7 and there are 4 hg's left. I won't say unless you want me to. I loved Casey's speech as well. He put those two in there place. I can't stand the sight of RRat's face anymore. I can't think of anyone I have disliked more in all the BB's. I really hated to see Casey go but at the same time, I love seeing Jeff and Jordan together. They make this worth watching. leenie

• United States
31 Jul 09
did you check out the pic? or cbs.com for the voting and how it was messed up? everyone on the forums on cbs.com is talking about it! Omgosh I sooooo want to know but I don't ya know LOL. Pm me please I can't take it then maybe I can see something in 20 minutes on BBAD.

• United States
31 Jul 09
Leenie, you are not the first person I've heard that from! I've seen several people say the same thing about Ronnie. And I'll have to post something I read today that he said about Casey. BTW...got your messages. I haven't been on a whole lot but I'm glad you got mine! I wasn't sure if I could send them. Glad to see they are working now.