Have you ever share kitchen with your wife?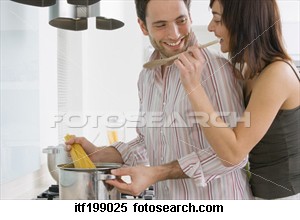 India
August 1, 2009 12:19pm CST
Married person used to share many things with wife. But have you ever share kitchen with your wife. If not then just tried it..... Really it is a fun and can enjoy feeling and emotion. I have shared share many time till today also. I enjoyed. Just share your experience too......
5 responses

• France
2 Aug 09
As a matter of fact, we both are good cooks. Guess what? We can't stand each other in the kitchen. But our kitchen is shared by most friends when they come for dinner, not that they are giving a helping hand but just sipping drinks, chatting and keeping me company while I finish the final preparation. Have fun!

• United States
1 Aug 09
Not just my wife. I have 4 kids, 3 girls and one boy. They all have learned to cook and we all spend time in the kitchen cookng and trying new recipies. we always know where they are and they are learning something at the same time. now I'm a grandfather and have a new generation to teach and have quality time with.

• India
1 Aug 09
Being together is fun always where ever and every where. That is the fun of life and what is life without wife?

•
3 Aug 09
I love helping my husband when its time for him to cook but i don't enjoy staying in the kitchen. It always been messy. He would ask help with the preparation but as soon as i have prepared it, im out of the kitchen. It will just be magic when he comes out with a good food.

• United States
1 Aug 09
My husband and I have cooked together before. It is not something we do often but every once in a while we decide to cook something together. We always have a good time when we cook together. We like to tease each other because I do everything really fast, and he does everything really slow. But we still have fun together when we cook. We even have taken videos of it in the past.