Trouble rating and tagging discussions

United States
August 1, 2009 2:44pm CST
Something that have been happening to me here for the last couple of days is that I am having trouble rating and tagging discussions. I will click on a plus for a person, and the page refreshes and the response still looks like I have not rated a response. And it is only happening for some users. That and I am being asked to tag discussions that I know that I have tagged (basically, I tag all discussions I start or respond to). So am I the only one having this problem? If so, what did I mess up on my computer? If not, I hope that it gets fixed soon.
2 responses

•
2 Aug 09
Hi Morgan, will say that hasn't happened to me yet and I don't do a lot of discussions anyway, as for tagging discussions I don't do that either but will have to find out if anything happens if I do...it is strange though that you are having these problems maybe someone else here can help more..LoLo

• United States
1 Aug 09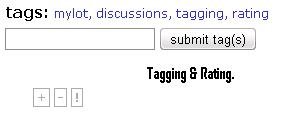 Hello morgandrake,

I just notice that you and some other user just post a similar discussion at the same time really thats weird/ cool and some way. Well yeah you were right when you said that you wasn't the only one getting this problem some other mylot users are having this problem as well. To be honest I think it' can be your browser and that it isn't allow you to do some things on mylot. I try out many many browser some that are not every common and they all have different reactions towards some sites. Some might be positive others might be negative like yourself. My best bet is to get a new and better browser. Sometimes it isn't your browser and sometimes it just can be your computer alone. and that can be the problem I have had this problem before. I had it when it came to editing my profile here on mylot.. I'm not sure what browser your using but I'm using Opera right now and it's working very fine with it. Hopefully I was able to help and you was able to fix your problem here on mylot take care.


• United States
1 Aug 09
Hey wingsofangels, Thats a good example but yeah .. Maybe the mylot administrators are working on the ratings on the site because lately people have been abusing the rating method and making peoples earnings and star rating go down. I guess because they dislike them or thought it was funny of some sort but yeah.. I don't know whats happening but maybe your right just let the mylot administrators deal with this problem they have control of everything