What is an invention that can help in solving geographical problems?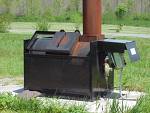 Philippines
August 3, 2009 11:28pm CST
Do you have any ideas of what equipment or devices are effective in helping our environment to make it clean and helps solve the garbage problem? If you are going to clean of your stuffs..do you throw it away? burn? or you recycle? If you have no equipment tools for this kind of saving the environment..What are the alternatives equipment you used to get rid of your extra stuffs or garbage? What do you think are the greatest [b][/b]invention that mankind have as of today that effectively helps in solving the geographical problems? Kindly share your ideas?[
1 response


• Philippines
7 Aug 09
Yeah..this is called incinerator..they could decompose an elements like plastic, scrap metal, bottles, papers and recycle them into being new..This is really a great invention of mankind which greatly benefits the whole world..