Differentiate being YOUNG from being TEENAGERS?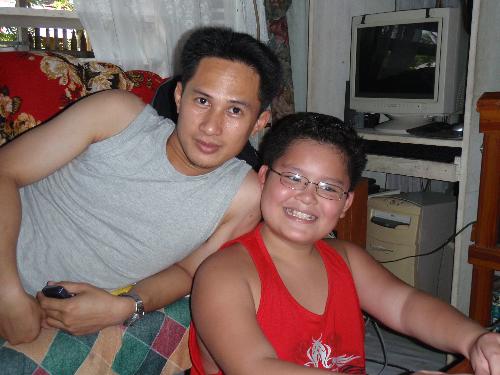 Philippines
August 3, 2009 11:45pm CST
Young is a term that is to be taken as subjective while being a teenager is one that it is to be understood as objective. I think that you are Young does not look at the age of a person. Instead, it considers the disposition or frame of mind of a person. If one is still enthusiastic even if one is already older could still be consider young? Teenagers on the other hand refers to younger people belonging to the 12 or 19 brackets. What would you consider YOUNG a teenagers who think mature or an adult who think young but look old?
6 responses


• Philippines
10 Aug 09
Being young is a state of mind it never depend on the age of a person. Their are older people who remain immature and irresponsible throughout their life who remain dependent and childish. While, their are young who think mature and acts more committed, and responsible adults...

• Philippines
10 Aug 09
yeah,,being young is on the state of mind,if we always like to linger on negative thoughts we may look old faster but if we focus to do and think about positive things you will notice and observe all your plans just fall in the right places and you feel calm, more energetic and fun loving...have a nice day



• Philippines
26 Sep 09
yes being is subjective,if you say babies they also belong in young also kids below 12 years old.when we says teenager the ages ranges from 12-18 years old,19-30yrs old is young adults,30-50years old is the middle adulthood.60years old and above are belongs to senior citizen.being is subjective because although old people are old in their ages they still feel young at heart.so others find young ones as companion in their lives.



• Philippines
26 Sep 09
Yeah that is true in my cases I feel it young at heart and having those attitudes does not mean the person is childish or immature but just like the attitude of thinking and looking young. A person who is old could think like immature while their are cases when the young adults is more mature than the true old.


• Philippines
26 Sep 09
I too is a living testament to that many people whom i meet think that i am more younger than my sister or nieces. When they look at me like i am still a teenager but with a mature thinking and age too. But, really feel young and even think young is my motto even if their is problem I just let it pass away. I do not like to indulge myself in thinking over the problems as I could not solve it and may end up old and wrinkled.


• India
11 Aug 09
There are lots of differnces between a teenager and a young person. A young person is more mature compared to a teenager and good in taking wise decisions. A teeenager is new to a lot of things and he wants to try it out without thinking about the consequences.

• Philippines
12 Aug 09
Barely in the look and the matter of thinking a teenagers and being young differs. A teenagers is basically very young in looks and thinking and a young could be a teenagers and a young adult. Their are teenagers who are below 20 years old but live a sedentary lifestyles that a older person who are always active outdo his performance and even live longer..

• United States
4 Aug 09
"Young" can also be objective. "Young" could be a 3-year-old. "Young at heart" can be an old person who still thinks young and who can still be mature. Personally, I believe that an "old" person is more of a pessimist while being "young at heart" is more of an optimistic personality. A person can be "old" while also being a teenager. A perfect example of that would be my oldest son. We used to joke about him being born "an old man" because of his serious attitude towards most things. Even when he was 3 years old, he wanted to know how things worked. Most 3-year-olds can't be bothered with how things worked, as long as they could play with them. So, there is chronological age and there is emotional age. Sometimes, they coincide. Usually, I believe, most people's chronological age and emotional age are not the same. I've known people in their 30's and 40's who acted very childish and took nothing seriously, while some teenagers were intent on working toward the betterment of their lives.

• Philippines
10 Aug 09
Definitely it is true..I could attest to that and I myself experience. Being young really is a state of mind and every year we celebrate Birthday. Some people denied their ages and very happy to tell their own ages. Then, their are people who valiantly proclaim their real ages. Then, comes the personality and in terms of the appearance of the face. A person who is think of the positive things are likely to live longer and look to age gracefully. Because they think young bit are mature an accomplish person. While a person who devotes his time thinking about negative things are likely to look old and suffer from a lot of crippling diseases such as hypertension, diabetes, kidney diseases and is a constant victims of stress, which have brought illnesses, decreasing vitality, lowering body energy and affect the mental adequacy of a person/ Thus, being Young depend on the person thinking and outlook in life..

• Philippines
4 Aug 09
TEENAGERS is an age bracket. its from 13 (thirteen) up to the age of 19 (nineteen) if you are not in that age group then you are not a teen. young has a lot of meaning. when someone ask my age and i say i am 39 they will say i am still young. sometimes i laugh and think whats young about being 39? if one is laready older but still willing to learn then that can be considered as young, if a young person who acts and thinks like an old person, my views is it is okay as long as it does not cross the point of being too nagging. some youngsters nags to older people just because they think they are inteligent than them

• Philippines
10 Aug 09
Yes..very true indeed. Young is a state of mind. You are young not basically of your aged, but because of how you handles you life with out most maturity and understanding of surviving life challenges. Their are older people who think and acts like a child who never know the word responsibility, loyalty and commitment. People who have no goals and only live in dreams and illusion. While they are young who think more like an adult but basically young in their age. finally, being young never look on the age or the face of a person. They are the so-called young at hearts who remain jolly, optimistic and never acts like a pessimistic person who view life on a negative aspect..Oh..you really look young with your pictures and stay the same as you are..