Photography . .. My hubby's new found hobby

Philippines
August 4, 2009 1:44am CST
Now that my husband is away from home, he found something to be busy of. . .. It's photography . . . He bought a new digital camera with zoom lens and is getting photos anywhere he goes. The good thing about his being in Japan is that, the place is so picturesque. He is enjoying every photo he takes.. . Do you find photography interesting too?
6 responses

• United States
8 Aug 09
Oh wow, bet your husband has taken some really nice photos while in Japan. I do love using our digital camera and taking photos primarily of the family. Only problem is I am not very good at it. I try hard but things don't always work out so well..lol I recently visited New Mexico, returned yesterday, and did take many photos of our family and scenery. Not sure how good they turned out since I haven't had the time to transfer the photos to my computer.

• Philippines
19 Aug 09
I hope by now you have transferred already your pictures to your computer. ..

• India
4 Aug 09
Not now!But I used to take a lot of photos,like your husband doing now,in my college days.In fact I was a member of the photographic club where we were taught to develop and print photos too.Now there are digital cameras and we can see the result immediately and if something is wrong we can delete it and retake the same.But then,we had only 36 snaps in a role and we can't see the result until developing the film roll.There was thrill and excitement then.Cheers!

• Philippines
4 Aug 09
I agree with you. .. I still have up to now a camera that uses a film. It's an Olympus camera with high-power twin flash. .. I love its resolution and I will be taking care of this camera until it becomes vintage.

• Philippines
4 Aug 09
Me too. I have two cameras but will sell the second one because I didn't use much. Anyway, I always take pictures wherever i go and even both some lens like infrared photography. It is very interesting to learn and create your own artistic style as well as to soothe your mind. I suggest that you tell your hubby to try out the infrared photography. Just buy a Hoya R-72 filter for his camera. Promise that it will come out very good in pictures if he takes in Japan. Try it! He will never regret it.

• Philippines
4 Aug 09
Oh yeah, I have seen the results of infrared photos in the net and it's kinda wonderful. . . I will surely suggest that to my husband. .. Thanks.

• Philippines
4 Aug 09
I am interested in photography and also like to have my on dark room or at least a photo printer where i could develop my own photos where their is no need to go to photo shop to pay for its printing. My interest lies in various categories and I am practicing the best shoots taken from different angles and views. I am the currently assign as my family photographer in every occasion and make photos slides burn in DVD to be watch by my family. I have a digital camera and automatic old model cameas where I have still to used a film. Their is really different between the two in digital I could really see the output but in film. I need to develop it first before I see the nice photos or some mistakes with my shoots..

• Philippines
4 Aug 09
The fact that you have different models of cameras shows that you are really a photography enthusiast. . .. Good luck on your photogprahy hobby. . .


• United States
5 Aug 09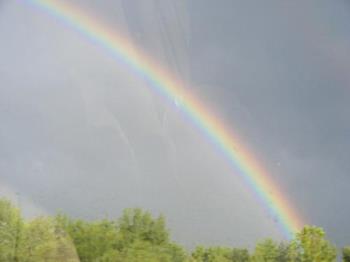 I love taking photographs. I am going to add one of my latest captures to this discussion. It is a rainbow that appeared during a thunderstorm last Thursday evening. We were traveling, and I had to take it through the window of the truck. It is pretty good all things considering. I know that it would have been even better if I'd wanted to get out in the pouring rain and take another one!