Got paid by TrekPay!! Now what??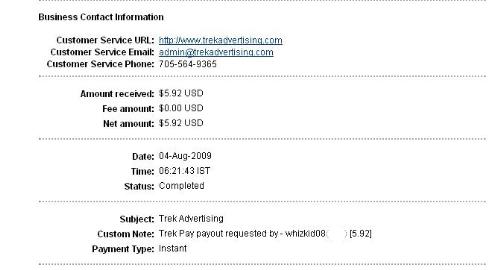 India
August 4, 2009 1:19pm CST
Hey everyone. Well, its a good news for me, I got paid $ 5.92 by TrekPay. Take a look at the payment proof. It took me about 7-8 weeks to reach that mark. Nonetheless, atleast they paid within a week of my request. Okay, but what next?? I don't think I'll be continuing with them as it takes too much of time to earn this amount. What are your opinions?? Will you continue, once you receive payment??
3 responses

• India
4 Aug 09
even i feel it takes a lot of time.. i feel thr are other sites, which are legit, lower payout, n good.. do add me, will give u the links..

• India
5 Aug 09
Okay, You are in my friends list. I'll be waiting for your message. Thanks for responding!


• United States
4 Aug 09
Hi, congrats on your payment. Well the way I see it, as long as they do pay I will stick around. If it takes me months to reach payout then I will stop working on the site. One site that would take me forever to reach payout even with referrals is Incentria.

• Indonesia
6 Aug 09
Wooow... Congratulation to you my friend... Last night is the first time i hit the cashout button trekpay... I've been wondering why is it their pay rates are getting lower?.. And how long do i have to wait until my money arrive at paypal?..

• India
6 Aug 09
I took me some 6 days for amount in my paypal. Earlier, the site was not so much exposed, but now they're rising with their paying rates falling!! Whatever, atleast they are paying and in the end, that's the only thing that matters now.