He is gone..but NEVER fogotten.. this has made me cry

United States
August 7, 2009 2:42am CST
I am up way to early. And so I get on the internet. The first thing that hits me is "Filmmaker John Hughes, Chronicler of '80s Teens, Dies" I am shocked. I am breathless. If you were a teen in the 80s you knew these movies. If you weren't, most of you know of his movies. I can't imagine having gone through my teens without his movies. I know lines by heart. Ferris B.- "Anyone? Anyone?" Breakfast Club too many to choose here, but "They ignore me" Pretty in Pink "Blane? That's not a name that's a major appliance" and I could go on. Some Kind of Wonderful Hughes was famous for his teen angst movies, however I don't think anyone hasn't seen other films with his mark..notably HOME ALONE I just don't know what to say..to John Hughes.. the ultimate "neo-maxi zoom dweebie RIP and thank you. Do you have a favorite movie by John Hughes?
4 responses

• Australia
7 Aug 09
I grew up with these movies being popular too! Ferris Bueller's day off was probably one of my favourites and Breakfast Club is definitely up there too. The "Vacation" movies with Chevy Chase were hilarious too. Many people would know the Home ALone movies for sure as well, but many critics seem to think that the Home Alone movies had a negative impact on his career. I never really cared for those movies much myself, but they sure were popular! RIP John Hughes.

• United States
7 Aug 09
He sure knew the main stream audience. No awards like Oscar, but he will be fondly remembered. That's for sure!

• United States
8 Aug 09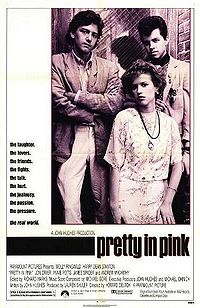 Yeah I read about this and heard it on the news..dang so many people are croaking lately..makes ya wonder what is in the water they are drinking..I loved all his films..but I will never forget "Pretty in Pink" I could relate to her so much in the movie..or felt I did..Molly Ringwald was awesome in the movie.. He will be missed..He left a legacy behind that we will enjoy forever though..and the future generation as well..his movies.


• United States
7 Aug 09
I didn't know John Hughes wrote those movies. I loved Ferris Beuler and Home Alone. I've seen Breckfast Club and Pretty in Pink. He really had a lot of talent when it came to writing movies. Like any artist, he will be missed. [b]~~AT PEACE WITHIN~~ **STAND STRONG IN YOUR BELIEFS**[/b]