buffalo burgers

United States
8 responses

• United States
8 Aug 09
I cooked them when I lived in Nevada! The meat was drier, not much fat depending on the butcher, they blend in the fat when they grind it! You have to take a visual and look for the white fat if it's there then your ok, if not I used to fry them in bacon grease and they were excellent!

tdemex

• United States
8 Aug 09
I do them like regular hamburgers but they have no fat so you might watch them so they don't stick if you do them in a regular skillet unless it's a coated one. We like to fix them cooked in mushroom soup occasionally or have cut up bell pepper and onion slices and cooked them together and put them on the oblong sub buns, that's real good. Take a bit for me no matter how you do them I love buffalo burgers....


• United States
9 Aug 09
I added some butter to them (actually margarine) They turned out pretty well. I think I like hamburgers better, but they were nice for a change and are probably healthier. THanks!

• United States
9 Aug 09
We make them all of the time. If you use the grill, make sure that you spray it up with the grill Pam stuff (I forget the name). We load them with garlic (it is an addiction) and make them just like burgers. But they are healthier.

• United States
9 Aug 09
I was thinking I should have added garlic, but I think that they were pretty good with seasoning salt, tomato and pepper. We both liked them. I aslo added margarine while frying the burgers.

•
19 Aug 09
when its buffalo it means hot. right? Anyway would you like to share the recipe. Have no idea whatit is unless it is like an ordinary burger that is hot.thanks and looking forward for the recipe.

• United States
10 Aug 09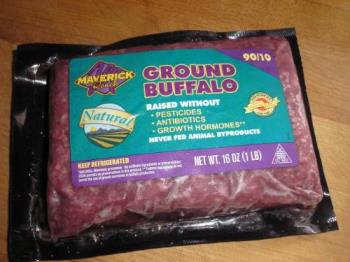 Hi Snowy, I love buffalo burgers too. You treat buffalo meat just as you would hamburg, there's usually a lot less fat in the ground buffalo than regular burger meat. Sometimes I prepare them with a little chopped onions and green peppers and maybe some worchestershire sauce in them, top them with cheese, MMMM! I also like to use ground buffalo in my chili or beef BBQ too. They also make great meatballs for spaghetti, hoagies or in BBQ sauce and one of my favorites, Indian Tacos. I usually get them when I go to a native American Festival (Pow-Wow).